Estimated Reading Time: 5 Minutes
Did you know you can have an easy-going beach life without being a surfer?
When it comes to beach life in Costa Rica, the Jaco area is often considered to be one of the most sought out destinations for expats and retirees.
Jaco Beach offers lots of activities and amenities. Some appreciate all those activities. Others prefer to be a bit more secluded.
How can you find Esterillos Beach and this easy-going beach life?
Just drive east from Jaco Beach for 30 minutes on the Costanera Sur, Route 34. From International Airport SJO, the drive takes about 2 hours.
3 Esterillos
Esterillos consists of three sections:
Esterillos Oeste, Centro, and Este, in that order, driving in an eastern direction along the Central Pacific.
The largest is Esterillos Oeste, which is no more than a very small beach town and is not crowded at all. The town is an old fishing village that captures much of what we like to call the "old Costa Rica feel".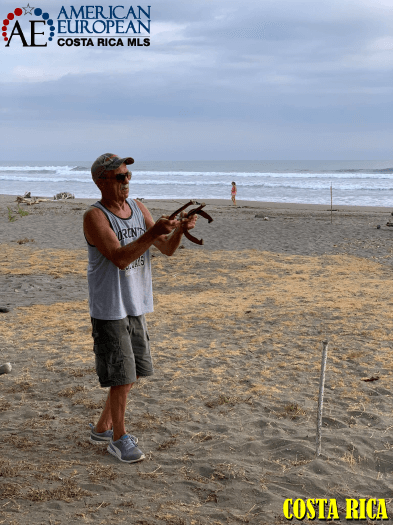 Esterillos Centro and Este are still practically undeveloped.
Still fairly undeveloped, with many dirt roads, open-air soda, and a much more rustic vibe.  What many who now call Esterillos home love most:
All services and amenities in Jaco Beach are just 30 minutes away.
The beaches and roads are virtually tourist-free.
The Beach
The Esterillos features some of the Central Pacific's most beautiful beaches.  Long stretches of light sand with little rock, with consistent waves, making it ideal for surfers and those who like to enjoy long beach walks with stunning sunsets.  The location is ideal because while many residents venture into Jaco often, you also have Manuel Antonio and Quepos on the other side about 35 minutes away.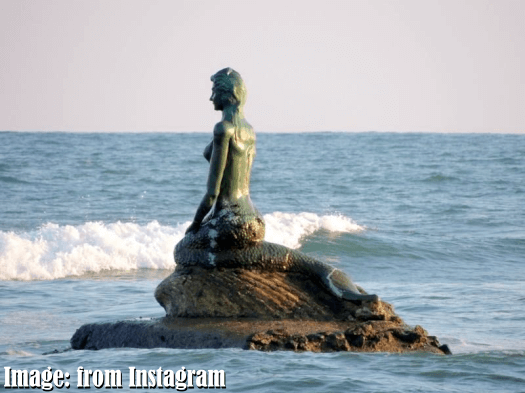 La Sirena
Unusual for Costa Rica, Playa Esterillos Oeste has its own mermaid. This bronze monument was done by sculptor Albino Valverde from Puriscal. At low tide, you can walk up to the statue so you can take photos without having to deal with the currents.
Surf spot
Besides being an excellent place for easy-going beach life, Esterillos is an excellent surf spot for longboarders. Costa Rica Surfing.org gives the following expert advice:
Playa Esterillos is a banana-shaped beach offering plenty of surfing action. The waves are mostly powerless, shallow yet fun to ride. Surfers frequently come across a set of smooth and glossy waves when the ocean is undisturbed by the wind. The beach break is consistent and breaks with a good combination of right and leftover a sandy bottom with rocks. On a normal day, the waves ride up to 150 meters but waves as tall as 7 feet have been seen off the coast.

The months of June to August and January to March offer the best conditions for surfing. Out of three parts of the beach, Oeste is the most popular one, particularly among longboarders and beginners. The beach break of Oeste features hollow and barrel waves.
The ideal time to surf Esterillos Oeste is when swells rise from the South and the Southwest at mid and high tides. The waves are gentle and low-level and build up in a gradual manner. Esterillos Este boats faster and stronger waves that break pretty nicely over a sandy bottom during the upcoming tide. However, the spot is the least popular of the three.
For an up-to-date surf report, try Magic Seaweed.
Expats & Retirees
Another draw for many expats and retirees seeking Esterillos is the wonderful sense of community they can find there.  A number of expats in the area meet up regularly for games of horseshoes, potlucks, and volunteer projects.  Those living in Esterillos are active and social, often taking advantage of great hiking, surfing and bicycling.
Are you considering living in Costa Rica, and looking for an easy-going beach life? Then Esterillos is a great place to hang your hat.
Contact me now for Esterillos real estate.