Estimated Reading Time: 5 Minutes
Nothing is worse than surfing on Google looking for property listings and not finding anything you like. Or they're not in your budget. Probably, the property listings you find are also in the wrong location.
Some don't know where to start because they have never been to Costa Rica. The proof is that we receive emails with requests like "I want to buy a home in Costa Rica." That is like saying, "I want to buy a home in Florida."
Before looking at property listings, find out where exactly in Costa Rica you'd like to live.
And that's not an easy task unless you follow the guidelines I've given you in this article.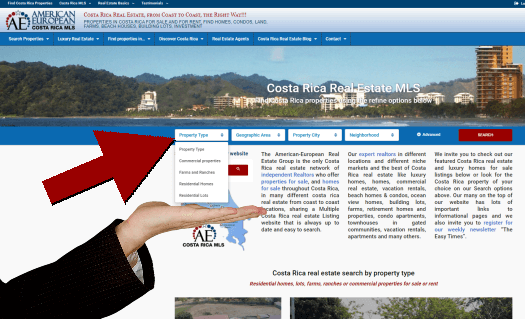 Are you curious to know which areas we cover? Then go to Discover Costa Rica first.
Now that you know where you'd like to live, it's pretty simple to look at property listings if you know the agents that cover your area. But did you know that you will need to contact all the agents in the area to see all the real estate listings? Unless you hire one to be your buyer's agent.
Buyer's Agent
Why would you want to use a buyer's agent to look at property listings? That's a no-brainer. Here are the reasons:
1.       Listing agents work for the seller. A buyer's agent will work for you, exclusively
2.       The buyer's agent will have to do all the groundwork, find listings, and contact listing agents. Knowing your criteria, the buyer's agent can show you all the real estate listings on the market that will suit your criteria and budget.
3.       The agent knows the area better than you do. So can recommend a location considering location, value, amenities, and access.
4.       You will not have any language issues.
5.       Having someone take care of your legal interests is important.
6.       Real estate agents are trained to negotiate.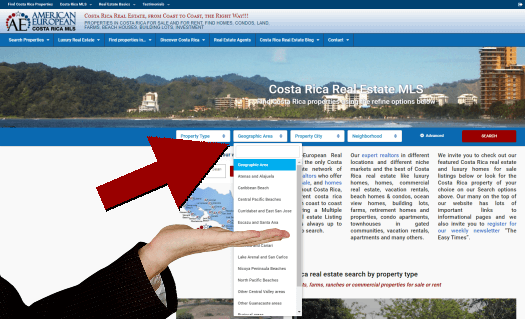 A good example is our buyer's agent in Jaco Beach, David Karr. Contact David if you're looking to buy a condo in Jaco or Esterillos. Many of our affiliate offices have a buyer's agent. Just contact us and tell us where you're interested in buying, and we'll connect you.
In One Place
Why surf like crazy all over Google to find individual property listings? You'll end up on 45 – 50 websites offering properties for sale in the location you need. Come to one place, pick the area and see what's available. Contact our affiliate and sign up as a buyer's agent with that agency. They will do the rest of the work.
Our MLS is pretty much like Funda in Europe and Zillow in the United States, with one huge difference: our listings are all represented by real estate agents.
Legal Issues?
Why fall in love with a property that has a legal issue? Our MLS is the only Costa Rica real estate organization that obliges agents to check the legal records of a property before accepting property listings. Property listings with legal issues such as liens, pending legal actions, or foreclosures are not accepted.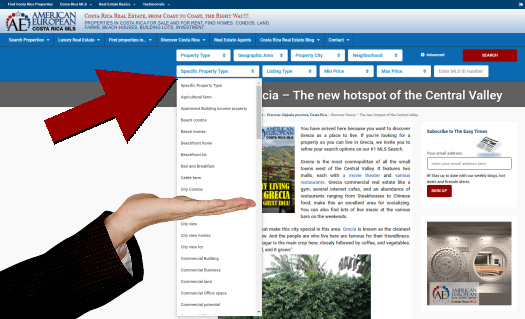 Advanced Search
Advanced searching on our website works like a charm, no matter what you look for. You can search for property listings in many different ways, and you select the one (or all) that suits you best:
Property Type – commercial property, farms, homes, homesites.
Geographic Area – we used 16 logical geographical references instead of just the country's Provinces.
Property City – a choice of 120 cities from coast to coast
Specific Property Type – here, you can choose from 85 property types, such as beachfront lots, hotels, or horse properties.
Listing type – property for sale, rent, off the market, or sold. Sold properties are usually deleted from the website after a while.
Min Price & Max Price – You can pick the budget you're looking for without wasting time scrolling through hundreds of property listings you're not interested in.
Check it out; I'm sure you'll find it convenient. Contact an agent on any property page or us with questions.