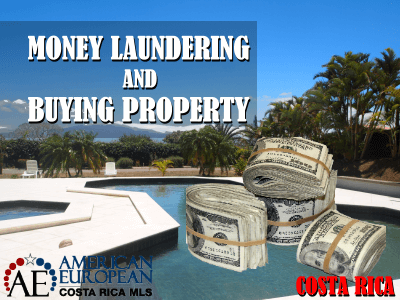 Why do money laundering and buying property in Costa Rica often go hand in hand? Should you be afraid to be seen as a money launderer when buying property in Costa Rica?
The answers are simple: In Costa Rica, real estate is still a means of money laundering.  Yes, you should be afraid, but only if you are actively laundering money.
You might not realize it, but large money transactions are now under the scrutiny of the authorities. The purchase of your retirement home or vacation home is now automatically suspicious, like it or not. Until you prove otherwise.
Money laundering laws in Costa Rica are changing constantly. Wiring funds to Costa Rica for your property purchase will from now on require more documents and proof of origin.
You're a money launderer
Anyone wiring more than US$10,000 into any bank account in Costa Rica is guilty of money laundering until proven innocent.
The account holder can prove he/she is innocent when proving where the money came from. If you can't prove the origin of the funds, those funds will be frozen by the financial institution, until you show them you're not laundering money. So, if you have not told your own government about this money, forget using it to purchase property in Costa Rica.
This law not only covers real estate but also property such as a vehicle, a truck, a motorcycle or a boat.
Escrow
Many real estate attorneys with escrow accounts are shutting them down because they're too much of a hassle to keep legal. Money laundering controls take up too much time and effort, so attorneys are referring the escrow business to escrow companies.
Buying property
When buying a property in Costa Rica, and you don't have a local bank account, you will need to use an escrow account to wire the earnest money as well as the balance of the purchase price to.
If you DO have a local bank account, your banker will request the same proof of origin of the funds when a large amount is deposited in that account (over US$10,000).
It is recommended to fill out the necessary documentation BEFORE the money is wired to the account. If you don't, the bank will freeze the funds until proven there is no money laundering going on. This could take weeks and you might miss your closing date because of it. If it is a check deposit, you can fill out their form and submit the necessary documentation.
Earnest money
The option to purchase – sale agreement will oblige the buyer to deposit an X amount as earnest money into escrow. When that happens, the escrow company will draft an escrow agreement to be signed by both parties. The signed escrow agreement will have to be accompanied by certain documentation to be delivered by the buyer, such as the "Know your customer form" or KYC compliance.
SUGEF
Although having a real estate license is not mandatory, SUGEF, our Financial Institution Superintendency made it mandatory for real estate agents and agencies are obliged to comply with the provisions of Law 7786.
This is the Law on narcotics, psychotropic substances, unauthorized drugs, related activities, money laundering, and financing of terrorism, which is why we are registered with the General Superintendency of Financial Entities (SUGEF).
Therefore, your real estate agent or agency will require you to supply certain information. In case escrow is used, the escrow company will supply the agent with a copy of the information.
Know your customer form
The escrow agent will request the buyer to provide the following information and documents:
a) Two (2) government-issued forms of identification.
b) In the event that one or both of the Parties is/are a Corporation or other legal entity, such Party (ies) shall provide Escrow Agent with a copy of the Articles of Incorporation/Association, Company Bylaws, Company Resolution, and power(s) of attorney or other documents (s) which grant(s) legal authority to the authorized signatory to act as the legal representative for the entity for the matters related to this Agreement and to sign on behalf of the entity.
c) Know Your Customer Form (Conozca a su cliente) duly executed by the Buyer.
d) Utility Bill (copy) that shows Purchaser current address
e) Proof of income supporting transaction amount (Any of the following: Tax Returns, W2 Form, CPA Letter, IRA, Audited Financial Statements or equivalent less than 1 year old).
f) If Depositor of funds is a person/corporation or legal entity different than Purchaser, Depositor shall also provide the aforementioned documents (a, b, c and d).
The Escrow Agent will reserve the right of requiring other documents it deems to be necessary.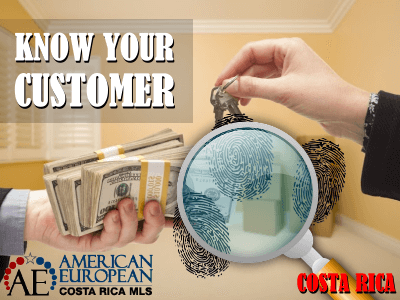 When selling a property
When you are selling a property and you will be depositing funds into your Costa Rican bank account, you will have to go through the same motions. Your bank will want to know where the funds come from.
At closing, request the closing attorney to give you an authenticated copy of the deed. That will suffice if the amount mentioned in the deed is higher than the check you're depositing.
The bank employees understand the reason the amount of the check is lower. The deductions for certain costs are normally: real estate commission, closing cost, a mortgage, and other payments.
The original option to purchase – sale agreement is acceptable for a bank when there is a transfer of shares of a corporation instead of a title transfer. The closing attorney should authenticate the option to purchase.
My opinion
If you are not into money laundering, you should not be afraid to show the origin of the funds. You should not be scared away by the controls if you are seriously interested in buying a property in Costa Rica. Make sure you can supply the necessary documents when needed.
In my opinion, to request a buyer to fill out a "know your customer form" only serves a real estate agent to qualify a client. At least this will show if the buyer is for real or not and has the necessary funds to purchase the property.
I don't quite understand why the Costa Rica real estate board is involved. Transfer of funds never involve real estate agents. Nonetheless, banks and escrow agents are quite involved in fund transfers.
Soon, construction companies, architects, engineers, builders, painters, electricians and everyone else involved in real estate transactions will have to fill out the form. Soon, this will become impossible to control. Only the bank and the escrow company should be held accountable for the proof of origin of the funds.
Buying or selling property in Costa Rica? Contact us now. Feel free to leave your comments on this blog. If you like this article, please feel free to share it on your social media.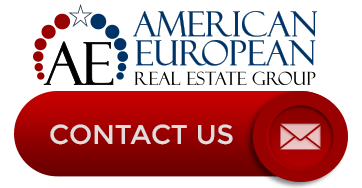 ---
If you like this blog, connect with me on Google+ or subscribe to our newsletter by clicking the banner below.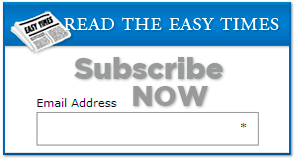 While we're at it, I DO want to remind our readers that we appreciate any referrals you can send us. Finally, please remember the American-European real estate Group's agents when you refer a real estate agent. Because we DO appreciate your business.