Estimated Reading Time: 7 Minutes
Do you think it's possible that your dream of moving to Costa Rica can turn into a nightmare?
So you see yourself sitting on the covered terrace of your incredible new residence, sharing delicious piña coladas and boquitas (snacks) with your friends while enjoying nature or an incredible ocean view? Or have a great cup of Costa Rican coffee on your terrace!
Is that a dream that can come true? Or will it only appear as a dream for the first weeks or years, then turn into a nightmare?
When renting, that's an easy fix; you can walk away from your security deposit and move elsewhere. But when you're buying a property, you really want to make sure your life in your dream home doesn't turn into a nightmare.
Who doesn't want to live in the tropics, in such a nice country as Costa Rica? It doesn't matter if you're moving here to retire, to start a business, or to work for a company. The first rule for a successful move to Costa Rica is "Always Do Your Research."
I'll describe four shattered dreams because someone didn't follow the rules of common sense. The following stories of dreams gone bad are real ones. The first one is my own dad's, in 1979 – 1980.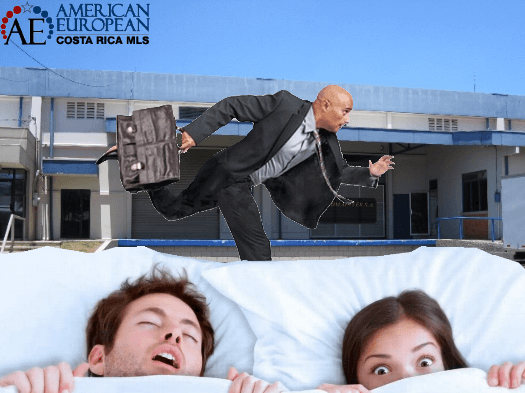 Buying a Business
Before we moved to Costa Rica with the whole family, my parents made a two-week due diligence/vacation trip with retirement plans. Sitting on the terrace at the Gran Hotel Costa Rica, enjoying a coffee, they met this very nice and amicable gringo. He owned a spice and tea company and sought a partner to grow his business.
My dad thought it was a great idea to enjoy his retirement and make money while sipping piña coladas. His dream was to have a successful business without hard work, and the man's offer matched their plans.
Arriving back home, without further research, my dad wired his new partner $30,000 to invest in the business in July 1979. Six months later, they arrived in Costa Rica to discover that all the money had been spent; my father's partner had put a new roof on his house and bought a new Harley Davidson.
Three years later, after trying hard to get the business going and to get along with his partner, my dad decided to walk away from his investment. Their dream was shattered three years later, and they moved to the Canary Islands without much of their savings.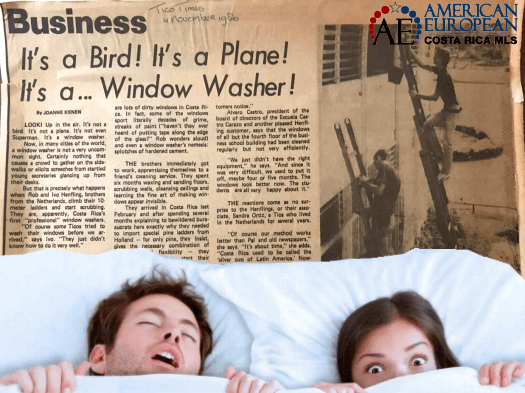 Starting a Business
My brother and I, 23 and 25 years old, decided to move to Costa Rica with our parents. We both had pretty good jobs in Holland but didn't know what to do to earn a living in Costa Rica. We didn't have much savings, so we compiled a list of ten possible businesses we thought would be good. It took us a while to make a list of options to give to our parents when they made this scouting trip. We had never been to this faraway country, and there was no internet to do any research. One of the businesses was a window cleaning company.  Our parents thought it was a great idea because there were windows everywhere.
Our dream, just like our parents, was to have a successful business and a bright future in our new home country. Before leaving, and without further research, we underwent a three-month training period with a friend's window cleaning company. Upon completion, we filled a shipping container with window cleaning equipment and sent it off to our new home country.
Arriving here, without speaking Spanish, we tried to convince the Tico business and building owners to clean their windows at least once a month. Ticos, however, were not interested in having clean windows.
To make a long story short, after five years of hard work, we lost our investment. Believe me, we tried real hard! But, in the process, we gained other important lessons: do your homework before you start a business. If you don't speak the language, prepare well before you start owning a Costa Rica business.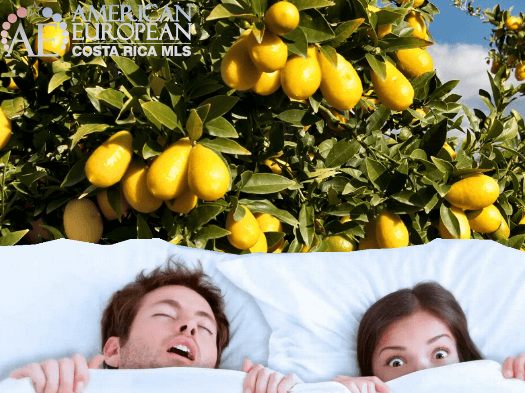 House in Limonal
In 2016, a Dutch couple called me, desperate to sell their home. They had fallen in love with a property and purchased this 27-acre parcel of land in Limonal, near Guayabo. This small town has 3,500 souls at the foot of the Miravalles volcano in Guanacaste.
They followed their dream to build a beautiful plantation-style home in the middle of nowhere. The closest grocery store was a pulperia – mom-and-pop store 20 minutes away. They did not get along with the neighbors who were miles away and they hadn't bothered to learn Spanish. Then they were terribly overcharged by their contractor. Soon, they were bored because they didn't have internet, no cable TV, and had read all the books they had bought.
When they called me, they pretty much hated Costa Rica and wanted out. "Please help us sell this property; we only ask $650,000!"
The fact that the property was in the middle of nowhere, which they loved so much, bit them in the butt. The property was sold at the end of 2022 for just under $330,000.
Please, do your research, learn Spanish (and make sure you're friendly with the neighbors.)
My friend Memo
Memo, Willem in Dutch, was a divorced, ex-KLM airline manager who moved to Costa Rica at age 65, when he retired. He soon fell in love with a Tica and, at her urging, without further research into her history, married her. His dream was to be happily married and enjoy his retirement. Sadly, his Tica was greedy and hired two teenagers to kill him so she could inherit his estate.
The investigations took over a year, and in the end, the wife was sentenced to 25 years in prison. The house, owned by Memo's nephew, had been taken over by Nicaraguans who now run it as a boarding house for their compatriots. Unfortunately, the nephew passed away before he could recover the house. The Widow was released a couple of years ago. Memo didn't enjoy his retirement for long.
Research
Don't let these stories deter you from your dream. Over 120,000 expats are happily living their dream here in Costa Rica, and that number gets larger every year. There are retired, successful business owners and people working as employees or remotely.
After 30 years in real estate in this beautiful country, I can tell hundreds of stories like this. I used these because they are examples of big mistakes. They were a senseless waste of happiness, money, and life. And they all occurred because the people involved ignored the basic rules:
Do your research.
Don't run before you can walk.
Use your head.
Don't let anyone talk you into things you had not planned.
Stay on track.
Don't buy from a pushy real estate agent because it's a bargain.
I often meet expats who are mad at everyone, except themselves. It's "everyone else's" fault most of the time, they made the wrong decisions and now think Costa Rica is a nightmare. Don't be one of them. Do your research and inform yourself well before you make important decisions.
And, if it involves the purchase of a home or property, hire an experienced real estate expert before you buy.
This article, by Ivo Henfling, was edited by Allen Dickinson and then published in the September/October 2020 edition of El Residente.