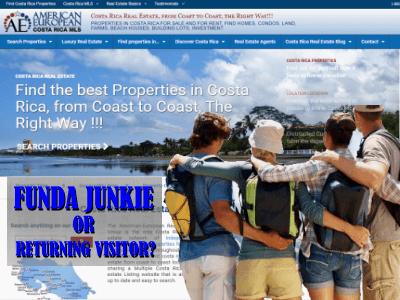 What is the difference between a Funda Junkie and a returning visitor on a real estate website?
I surf real estate websites all day. Am I becoming a Costa Rica real estate website junkie or not? Many people spend hours surfing real estate websites just for the fun of it.
The other day, I was talking on Skype to my mom in Holland. She was saying that she enjoyed looking at our newest listings just for the fun of it. My mom has lived in Costa Rica back in the 80's and lives in Holland again. But she loves to dream about buying a home in beautiful Costa Rica, so she surfs real estate websites all the time.
Talking about how much she enjoys browsing real estate websites, my mom remembered an article about Funda. Funda is a Multiple Listing System websites in Holland. The writer of that article calls herself a Funda junkie.
What is a Funda Junkie
A Funda junkie loves to just look at properties online without ever buying anything. Roaming through the real estate listings seems to be a past time for more and more people. They love looking at inviting pictures and even more inviting descriptions. Even though they never plan to buy anything.
Nienke Ledegang, a Funda junkie herself, is a journalist and investigated this matter and writes in her article that most Funda junkies are women. They're not always looking at a new house, but most of the time are attracted by the possibility of voyeurism that Funda offers.
What is a returning visitor
A returning visitor is someone who sees the value of a website. This returning visitor might be looking at properties in a certain area of the country. Or at a certain type of property. It is also very common that returning visitor comes back all the time to read the newest blogs or find certain valuable information.
Interior decoration or voyeurism
It is interesting to see what some people say about this. Carlijn (31) recognizes herself in this profile. Over the past 5 years, she has been on Funda every workday, it has been part of her standard morning ritual: coffee, email and then onto the Funda website. To her it does not have anything to do with planning to buy a new home; she just likes to look at what kind of property she can get for a certain price in her town and what kind of property in another town.
It's also nice to just see how people have done the interior decoration of their house. Sometimes it gives me ideas for my own house she says. A bit ashamed she adds, of course, it is also nice to look inside the home of people I know or colleagues. When I hear a colleague is putting her/his house up for sale, I look up their address in the phone book and then go to Funda to check it out.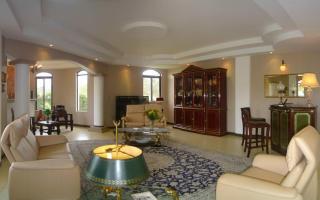 Irene (35), another Funda junkie says A colleague of my husband divorced and put up his house of 900,000 EURO up for sale. I wanted to see how these people lived. Irene says she has a pretty good feel of what the market does because she checks out the Funda website regularly.
Ugly pictures
Others interviewed by Nienke think its fun to check out the ugly pictures on real estate websites taken by realtors. These homeowners are too lazy to make a home picture-ready when listing it.  Then, the agents when taking the listing photos:
leave toilet seats up,
leave their own car up front every listing they take
or leave overflowing garbage cans and unmade beds in their pictures.
See a nice sample below.
The rich and famous
Doing some more research, I found some more people have a problem with this addiction of browsing real estate websites almost every day, like movie director Sofia Coppola who tells The Oprah Magazine that "My friends and I say it's like online porn for women,".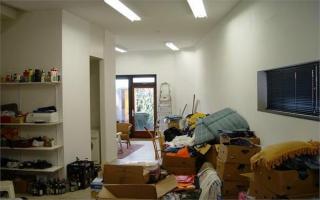 Seth Ginsberg, co-founder, and president of the Global Healthy Living Foundation says he browses real estate websites at least once a day for 30 minutes at a time. "I like to browse listings at night after a long day, over a glass of wine, while watching TV," he says. "On weekends, like most people, I browse the Sunday real estate section in the bathroom."
Sherry Chris, CEO of Better Homes and Gardens Real Estate, says, "People are instinctively interested in others' living environments and how they may compare or relate to their own surroundings. As sellers take a particular interest in the appearance of their home when it is on the market for public view, this provides an opportunity for others to see what might work for their own living spaces someday. This could be as simple as décor color combinations or getting ideas for particular fixtures, furniture arrangement or landscaping."
My opinion
At the American European Real Estate Group, we have been receiving no complaints about the addiction from users. Also, we are not complaining about the users checking out our website every day.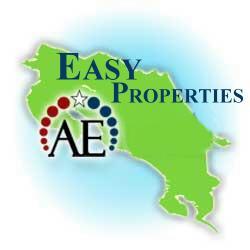 I just checked on the statistics we have on our website and it shows that 48,34% of our visitors are returning visitors. That means that many like to look at listings or read up on the articles. Many of you are looking to retire next year. Others are looking to retire in the next 5 years or just like to dream about buying a home in Costa Rica.
And who cares anyway why you surf our website? We are glad you are doing so.
Surfing for properties in Costa Rica, addictive or not, keeps the dreams alive. It gives you the opportunity to think about the future and your retirement. Would you stay where you are or should you move to a tropic location like Costa Rica and what is involved in this dream? Can I use my IRA or 401K to invest in Costa Rica? We have most of the answers for you.
Subscribing to our monthly newsletter The Easy Times below is really simple. It will always keep you up to date; go to the left of this article and join our mailing list or follow our social network. Just fill out your email address; it will give you a chance of seeing the latest stories, the hot listings of the month and peek into other homes.
I hope to see you back soon, Funda junkie or not. Oh, and if you see something interesting while surfing our MLS, and you'd like to view that property, contact us now.
---
Finally, feel free to leave your comments on this blog. If you like this article, please also feel free to share it on your social media.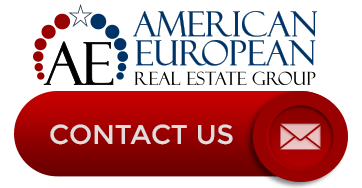 If you like this blog, connect with me on Google+ or subscribe to our newsletter by clicking the banner below.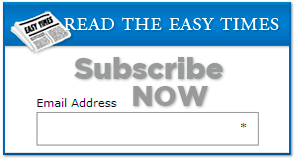 While we're at it, I DO want to remind you that we appreciate any referrals you can send us. Finally, please remember the American-European real estate Group's agents when you refer a real estate agent. Because we DO appreciate your business. Therefore, we are very good at what we do.