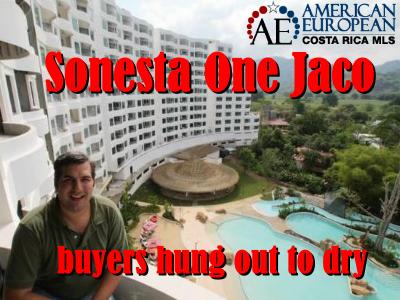 What happened to Sonesta One Jaco?
As a buyer of a condo in Sonesta One Jaco, I received an email from the Developer, Joshua ten Brink of Riverside Developers during Easter Week 2010. In his email, he was saying that he is suing the bank who lent them the money to build the project of One Jaco Place in Jaco, later Sonesta Jaco Resort.
The reason, he alleges in his email to those who bought a unit or put earnest money down against an option to purchase/sale agreement is that the bank who lent him the money (BCIE) because they are changing the rules on them and they can not afford to finish the condo buildings.
Meanwhile, some of us closed on the purchase and some others have paid the earnest money but will not close or cannot close for one reason or the other and the whole project will be tied up in court for who knows how long.
I, as an owner of real title (our unit is totally finished and we furnished and equipped it) now have an apartment in an empty and unfinished building which I cannot rent or even when I use it myself, the elevators will not work, or I have no water nor power and a long list of other issues.

Investors disappeared
When I asked the Sonesta One Jaco developer to give me a list of the rest of the investors so we could all keep in touch, he flatly refused to give me such. By now, I have the list of all the names and most are on my mailing list. But there are quite a few names in that list who only put $10K down and I have never been able to find them in two years. Coincidence?
Now you will ask yourself, how come this happens to a Costa Rica real estate agent? And to one who has been in the business for so long? And is Costa Rica so unsafe? Allow me to explain.
History on Sonesta One Jaco developers
Before 1995, Costa Rica had very few developers large enough to build a high rise building or even a gated community. Most developers would build only two houses at the time. The Costa Rica real estate boom, starting around 2005, was bringing in Venezuelan and Colombian developers. But also many entrepreneurs of all ages, nationalities, and backgrounds who thought they could become a developer.
Costa Rica at the time didn't have, and still does not, rules and regulations in place to control that these developers deliver what they promise. Most of these developers are not builders themselves. They sub-contract the people that are needed in each phase of the project.
Many times they don't own the land either, it is in escrow and they will need to pay the seller of the land a percentage every time they close on one property.
Actually, they don't have anything, except the money needed to get through the permitting phase (if that), a marketing budget and with luck enough to build a nice gate or entrance to their project.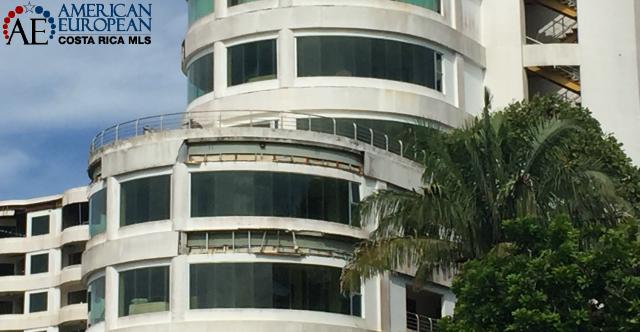 The good and the bad
Anyone who doesn't know Costa Rica well might think all developers in Costa Rica are as bad as Sonesta One Jaco, but that's not true.
It's quite the opposite. Developers like Daystar in Jacó Beach, Concasa in Jaco and Alajuela, Kirebe all over west side San Jose, La Laguna and Grupo Condado all over the Central Valley, to just name a few, are very successful. They can show thousands of happy buyers.
The difference? These developers have the experience, the money, the infrastructure and the vision to do things right.
Sonesta One Jaco Escrow
In most other countries, when a developer sells a unit (a lot or a house or a condo) to a buyer, the buyer's money goes into escrow and it stays there until the project is finished and delivered completely to all the buyers, not until then the money in escrow will be paid to the developers. With the contracts of the option to purchase/sale that they sign up from pre-construction sales, the developers can get the money from the banks to finance the project. But this is not the case in Costa Rica.
Costa Rican Banks were not used to lend money on such large projects and the developers had to either get money from foreign banks or work with the money from the buyers. Therefore, almost all developers were charging the buyers in 3 or 5 phases and this money instead of being put in escrow was used to build.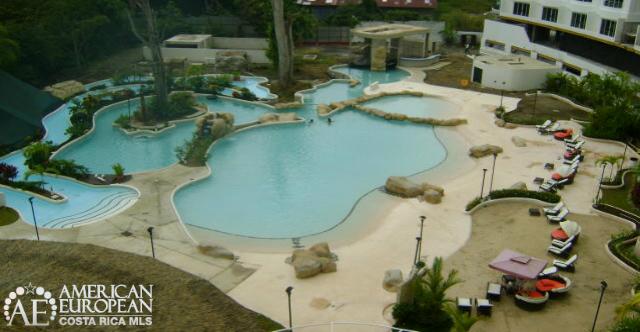 Real Estate Boom
During the real estate boom, this was not a problem. Developers could not build fast enough and buyers did not mind their money was used for construction. Everyone was making money. Though most of us knew the bubble would burst, we all thought it would not happen in our life.
In the case of Sonesta One Jaco, the developer says the bank changed the rules on him. Also, that his supply of money dried up even after he found two hotel chains willing to buy his 2nd phase. But the bank was not willing to release the property. But after that, it became clear that most of the pre-construction contracts at Sonesta One Jaco were not closing. The buyers couldn't afford to close for one reason or other. So, the bank stopped disbursing money to the developer to keep building.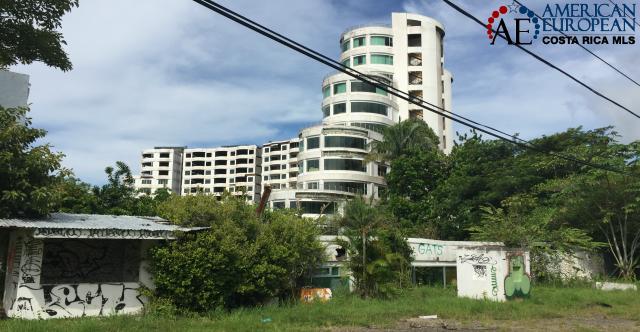 Pacific Palms
Pacific Palms, later called Jaco Palms went the same way. The developer, Francisco Fonseca, developed the Pacific Sun near the entrance of Los Sueños and he did well in his first project. He sold my clients a condo in The Pacific Palms in pre-construction on the 21st of July 2009.
The Banco Nacional shut the developer down by not giving them any more money, see the picture below. My clients are still trying to get back their money.
Nobody does anything
Nothing is being done to protect the consumer like all those who purchased a condo at Sonesta One Jaco. Thousands of buyers are losing their well-earned savings. In my opinion, somebody in the government should pick up the ball. Even the two real estate boards in Costa Rica did not do anything about it. It seems nobody cares. But I do.
It happened to me and many of my clients, we all lost money. This should happen again and we need to get some action:
Costa Rica real estate development should be regulated and should be controlled.
The developer is not willing to share who the rest of the buyers are. I am willing to work as a team. We are co-owners and the developer should by law be obliged to share this list.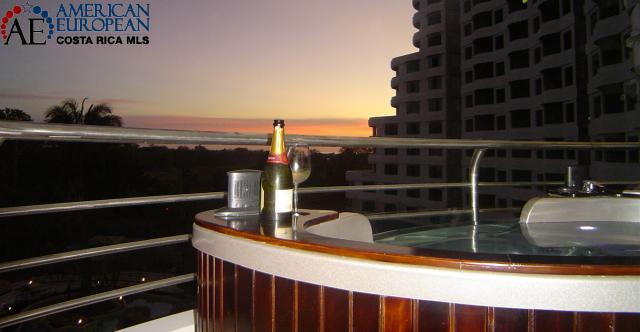 Obligation to register
President Oscar Arias signed a new decree in August 2009 that became effective as of October 2009 that requires real estate developers to register their projects with the Ministry of Economy, Industry & Commerce. But until now, I don't see anyone taking this seriously yet.
I would like to insist that Government officials take this decree out of the closet. And that it will be used to protect the local and foreign consumer better. Meanwhile, invest your money in an existing and finished product where you will have clear rules to play by. Do not buy in pre-construction phases unless you get security.
Make sure you do your due diligence. Myself, as an investor at Sonesta One Jaco and being a real estate agent, I have learned my lesson. I will never trust my client's money or mine to a developer again unless there will be controls and regulations. Only when I can be totally sure I will get the property delivered or get my money back.
You can contact me NOW for any other info on developments in Costa Rica or a Costa Rica property tour. Let's learn from this bad investment in Sonesta One Jaco, so it won't happen to us again.
---
Feel free to leave your comments on this blog. If you like this article, please feel free to share it on your social media.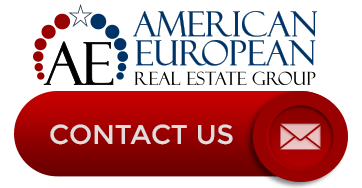 If you like this blog, connect with me on Google+ or subscribe to our newsletter by clicking the banner below.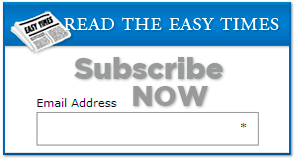 While we're at it, I DO want to remind our readers that we appreciate any referrals you can send us. Finally, please remember the American-European real estate Group's agents when you refer a real estate agent. Because we DO appreciate your business.