Estimated Reading Time: 5 Minutes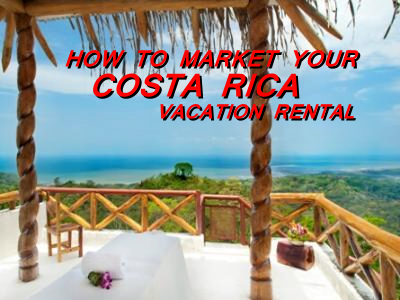 You have already bought your vacation rental property in Costa Rica, hopefully through one of our affiliate partners in the American European Real Estate Group. You have hired a property manager. Now you need to find a way of marketing your Vacation Rental as well as possible. So you can make an interesting return on it.
You should discuss how to advertise and where with your vacation rental property manager. Between you and him/her, you write up the smashing title and text for your advertisement.
Most Costa Rica vacation homeowners, once they have purchased the property, leave the advertising totally to their manager.
Your manager can probably write a decent text but will not spend much time on it. If you have a friend who is a writer or a blogger, ask that friend to help.
Use professional photos
I'm sure you want everyone to see your ads and say, "That's where I want to spend my next vacation," and click on it to make a reservation. This will not happen if the photos and the title are not attractive.
I'm always amazed at how many vacation homeowners post the most horrible photos online and then complain they don't receive any reservations. For a vacation rental property manager, it is unaffordable to hire a professional photographer to advertise your rental property in Costa Rica. But for you, it is, as it is an investment, not a cost factor.
Ask your vacation rental property manager to quote different photographers to do a photo shoot of at least 20 or 30 photos of your property, the views, the common areas, the exterior, as well as the immediate area like the beach so that you can use different photos in different ads. Also, ask what it would cost to Photoshop those photos.
Your website
Of course, you can build your website, but if you are not a champion SEO (Search Engine Optimization) expert, your potential clients will never be able to find it. Imagine that you are interested in renting a Costa Rica vacation home. You go to Google and search for a Costa Rica vacation rental. Google will give you instantly about 17,400,000 results.
Most vacation rental property clients who use Google will go no further than the first page. The 1st page will offer you 10 website options plus 10 websites that pay Adwords to be on the first page. Many of those are international vacation rental websites. They will charge you a fixed fee or a commission to advertise your vacation rental. In another blog, you can find out the options you have to advertise your vacation rental property. Also, how to use Social Networking like Facebook, Instagram, Twitter, and Linkedin to your advantage.
Of course, hire an American-European Real Estate Group affiliate as your vacation property manager. You will get your listing included on our website, one of the best-scoring websites on Costa Rica real estate.
How to advertise
Use different titles and different photos for each one of the ads. You can repeat some of the photos but make sure that the first few photos of each advertisement are different, as well as the title. So the listing will show a different listing on each website. Most people interested in a Vacation Rental property in Costa Rica will surf different websites. They will recognize the photos after a while. But every time they click on your ad, thinking it's a different vacation rental. You have a bigger chance to convince them that your unit is the one they want to rent.
It is difficult to do it all successfully, but our affiliate agents can help you make a great ROI on your vacation rental because they know their area and the competition.