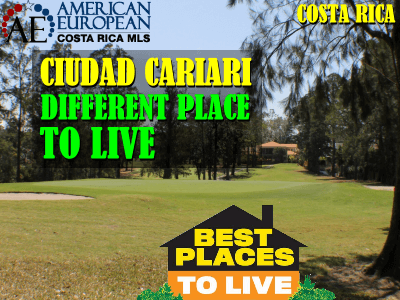 Ciudad Cariari is not well known as a place to retire in Costa Rica. If you are thinking of moving to Costa Rica and you are a city person, Ciudad Cariari is a fantastic option:
You love to go to the beach but don't want to live there. You need medical services of a good private hospital like CIMA or the Clinica Biblica, you like shopping in a decent mall and you need to be close to a good school for your kids.
AND you like to play golf.
If that is the wish list you would give your real estate agent when you are looking for a home, we have found you the right place to move to. Our Ciudad Cariari agent can offer you a great property inventory to look at.
Welcome to Ciudad Cariari or just in short: Cariari.
Many cities and towns in Costa Rica have a mix of rich and poor living together in the same neighborhood. Unless you purchase in a gated community.  Because some expats are used to live in a neighborhood that houses families of more or less the same social level and clean streets and boulevards. Well, then you've just found the right place: Ciudad Cariari.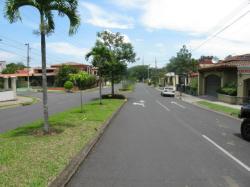 Cariari real estate was developed in the 70's by a group of visionary Costaricans, as well as Los Arcos next door and you will indeed find nice, clean, and well-maintained streets and parks and everything else I just said, plus a lot of other things. Cariari belongs geographically to the province of Heredia.
Ciudad Cariari homes
In Ciudad Cariari, you can find more or less 600 homes built and also some 400 building lots. Only once in a while, you will see a building lot for sale. All homes are custom built and therefore different. Some Ciudad Cariari homes are built on two or three lots.
You can find some really nice Cariari homes for sale starting just under $300,000 and we always offer a great inventory of luxury homes and estates in any of the four subdivisions within Ciudad Cariari:
Of course, there are also some really nice homes in between those price ranges for sale. For the golf lovers, we also have great news. There are quite a few golf properties in Cariari as many are either around the 18-hole golf course or very close to it and you can drive there in your own golf cart.
Ciudad Cariari master planned community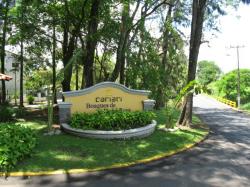 Ciudad Cariari was probably the first master-planned community in Costa Rica and the first that sold Costa Rica real estate in an organized manner.
The 230 acres of land was subdivided into 1,000 building lots and the Cariari Golf club was founded in 1973 on 132 acres and the fairway was designed by architect George Fazio. This 18-hole golf course in Cariari is known to be one of the nicest golf courses in Costa Rica.
The Cariari golf scorecard looks as follows:
Tee              Par        Yards        Slope       Rating
Blue             71          6577          144          72.7
White           71          6260          140          71.1
Yellow          71          5955          135          68.9
Red              71          5416          138          71.9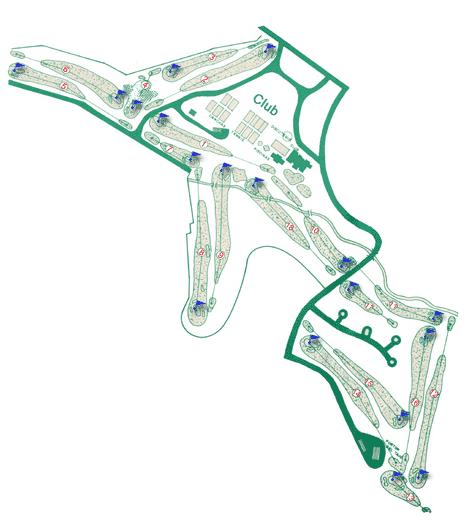 Worldgolf.com describes the Cariari golf course as one of the best in the country. It also mentions that it is heavily wooded with narrow fairways and only a few fairway bunkers. The Bermuda grass greens are fairly large, fast and well-bunkered.
A comment often heard from those who have enjoyed the Cariari golf course are "Don't let the yardage fool you; this little course is tight and can play difficult.
Access to Cariari
Cariari is located only 10 minutes from the International airport Juan Santamaría and is excellently located for those who travel a lot. Besides, the security of the Ciudad Cariari community is very good so you can just close your home and leave the country without having to worry about your home being robbed or invaded.
For good access, the General Cañas freeway goes right by Cariari and will take you straight to San Jose, Escazu, Santa Ana, and other locations.
View Cariari real estate in a larger map
Cariari shopping
On the northern edge of Cariari, you will find the Mall Plaza Cariari where $8 million was invested in 32 stores and 22.000 sq.ft. office space.
On the other side of the highway General Cañas, you will find the Plaza Real Cariari shopping mall with
a couple of hundred stores,
a large grocery store,
a food court,
movie theatre,
and banks.
Additionally, the Cariari bowling alley is almost next to the Mall Cariari. BolCariari even offers cosmic bowling now.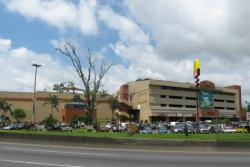 Cariari also offers
The Cariari municipality and all local government are located in San Antonio de Belen or Belen as it is called by locals. Belen also offers everything you need and is only 5 minutes away.
Belen and Cariari are always voted among the top 5 municipalities in CR.
Ciudad Cariari itself is very quiet and peaceful and great for walking your dog or jogging.
Good English school in American International School.
There are quite a few good hotels in the area.
Cariari is very safe and little crime.
Ciudad Cariari is great for investment because there are lots of international companies around the area who are always looking for upscale homes to rent for their managers.
Asunción area, which includes Cariari, was voted a few years ago as the best place to live in CR.
Therefore, we invite you to visit Cariari if you are looking to live and purchase a home in the Central Valley. Our agent in Cariari, Shell Johanson, is fluent in English and Spanish, plays golf, so can introduce you to the Cariari Country Club and is the best trained real estate agent in the Cariari area.
Contact Shell now for a tour of his Cariari real estate listings.
---
Feel free to leave your comments on this blog. If you like this article, please feel free to share it on your social media.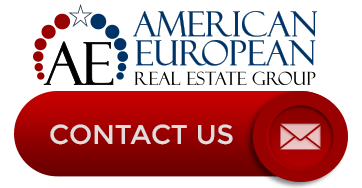 If you like this blog, connect with me on Google+ or subscribe to our newsletter by clicking the banner below.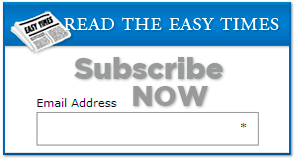 While we're at it, I DO want to remind our readers that we appreciate any referrals you can send us. Finally, please remember the American-European real estate Group's agents when you refer a real estate agent. Because we DO appreciate your business.