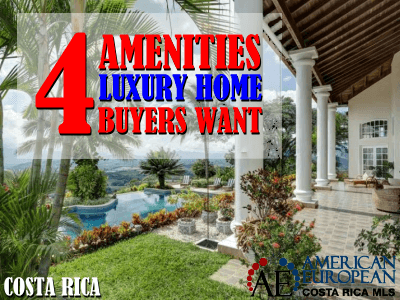 A realtor.com® survey in 2014 found that 17 percent of luxury home buyers say they entered the market because they're newly retired.
The survey shows that 19 percent of luxury home shoppers say a recent success in their career has prompted their home search.
If you belong to the first group of luxury home buyers, there is a good chance you have discovered that Costa Rica is a fantastic option to purchase a luxury vacation home or 2nd home, especially if you live in a city with direct flights to San Jose or Liberia.
If you belong to the second group, you might be looking for a different location. This is more likely within the Central Valley (you might be the exception, of course). In that case, you will be more interested in a luxury retirement home close to the International Airport in San Jose.
The best part is that our MLS offers you both options and more.
Amenities
The realtor.com® survey shows that there are 4 amenities that luxury home buyers want most:
54% of luxury buyers indicated a chef's kitchen as an important feature;
44% consider the home's views of oceans, mountains, or cityscapes as significant;
38% responded that the square footage of the property is a key attribute;
36% included the presence of an expansive master suite as an important factor.
The chef's kitchen
When you have more time on your hands, you have time to cook. If you love to cook, you must show off to your friends and invite them to your feast. A focal point for gathering family, friends, and food, a chef's kitchen offers much more than just a stove and a fridge. The best chefs' kitchens are open and offer top-of-the-line appliances, great workspaces, and, of course, a nice sitting area for all who want to be close to the chef while doing miracles in the kitchen.
The home's views
Since Costa Rica has 633 miles of the Pacific coastline and 132 miles of the Caribbean coastline, it is pretty easy to find luxury homes with ocean or beach views. The Central Valley is surrounded by mountains. So finding a luxury home with mountain views, valley views, or city views is an easy task if you are in the right location.
The home's square footage
The square footage desired is a very personal opinion. Many retirees want to downsize, and the home's square footage has to be small. You might consider having a few important rooms in your home, such as a chef's kitchen and an outstanding view; others want a man's cave, a home theatre, a music room, or even a bowling alley. What is most important is to let us know your exact requirements of how you would like to use up the square footage of the luxury home. Then we'll do what we can.
The home's expansive master bedroom
When purchasing a luxury vacation home in Costa Rica, of course, you would like your master bedroom to have all the luxuries of a 5-star hotel, apart from that balcony with a panoramic ocean view. You also would like your guests to be as comfortable as you are.  For luxury home buyers, bedrooms and bathrooms are as important in a luxury vacation home as a chef's kitchen.
A retirement home usually has less space set apart for the bedrooms. But the master bedroom, of course, has to be special. If your luxury retirement home is a ranch home, you would want to walk into the garden or directly into your endless pool. And if you're on a different floor, you would want expansive panoramic views from your master bedroom.
Allow us to help you find your luxury vacation home or your luxury retirement home, we have 30 agents from coast to coast and they know their area like no one else does. We can find you the home you desire, with a chef's kitchen, a giant view, the right square footage as well as one with an expansive master suite, contact us now.
Feel free to leave your comments on this blog. If you like this article, please feel free to share it on your social media.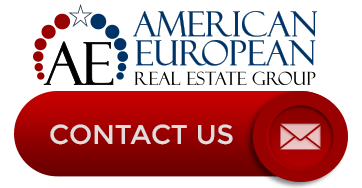 ---
If you like this blog, connect with me on Google+ or subscribe to our newsletter by clicking the banner below.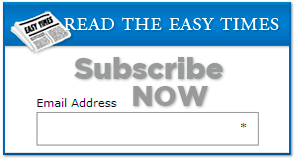 While we're at it, I DO want to remind our readers that we appreciate any referrals you can send us. Finally, please remember the American-European real estate Group's agents when you refer a real estate agent. Because we DO appreciate your business.