Estimated Reading Time: 7 Minutes
Waterfall hikes in only one of many adventures you should experience while living in Costa Rica. It doesn't matter where you live in this beautiful country, there is a ton of adventure waiting for you.
Waterfall in Spanish is catarata, and hiking is caminata or senderismo.
Costa Rica is one of the most beautiful countries in the world for a nature lover.  There is so much to see and do in Costa Rica, that maybe, just maybe, you might still have enough energy at the end of the day to take a few minutes to relax and play a few games with Fair Go casino bonuses, or maybe not.
Hiking by a Waterfall
Would you enjoy a couple of waterfall hikes, swim in the water below the waterfall, or just hike in nature?  Here are 3 exciting ones:
1.   Catarata Rio Fortuna Waterfall
The waterfall is open every day from 7:00 am until 5:00 pm. So, if you were interested in taking a night tour of the waterfall, it is not going to happen.  The Fortuna River waterfall is located in a biological reserve with an area of 210 acres of tropical wet forest. The reserve is part of the Arenal Volcano National Park, and it is located at 520 meters over sea level.
The waterfall is 70 meters high.  By comparison, the Leaning Tower of Pisa is about 56.40 meters and the Statue of Liberty is almost 93 meters high.
To observe this splendid 70 meters high waterfall, visitors must pass a path of approximately 530 steps.  Since this is a major tourist attraction, there is excellent security on this path, as well as places to stop to rest, eat, and drink.  There are also places in front of the waterfall to take pictures of the beautiful view.  It's an in-and-out trail that simply requires more breaks on the way back up. If you are mobile and in okay shape, the hike is worth it. The cascade plunges into a misty pool surrounded by lush rainforest and enormous mossy boulders.
You cannot swim directly at the base of the waterfall for safety reasons but you can swim further downstream in the river.
There are two official hikes by the waterfall, "La Fortuna Waterfall Hike Tour" and the "Orchard Garden Hike".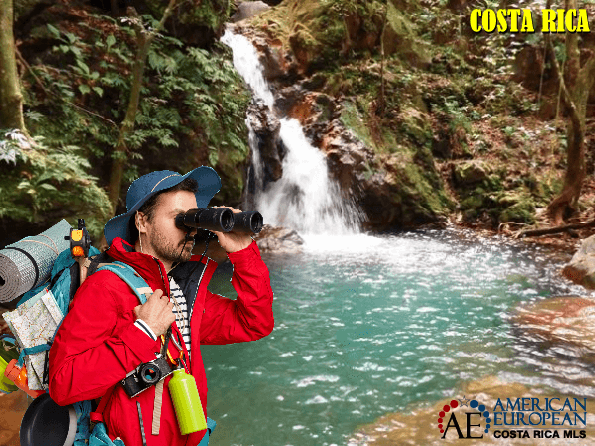 2.   La Paz Waterfall
La Paz Waterfall Gardens Nature Park and Wildlife Refugee is the #1 Most Visited, Privately-Owned, Ecological Attraction in Costa Rica. Featuring the Most Famous Waterfalls in Costa Rica. La Paz is the largest animal sanctuary in Costa Rica with over 100 species of animals, and 3.5 kilometers of Cloud and Rainforest Hiking Trails.
None of the animals that are living in the wildlife refuge have been taken from natural habitats.  Most of these animals were illegal pets that were confiscated by the Costa Rica Wildlife Ministry. For various reasons, these wildlife animals cannot be released into the wild.  So their home is now the La Paz Waterfall Garden Nature Park and Wildlife Refuge.
You cannot swim in La Paz Waterfall. But the guests staying at Peace Lodge are able to swim in the pool on the property.
3.   Volio Waterfall
The Volio Waterfall is located near the town of Bribri, Costa Rica in Limón Province. It is located within the Bribri Indian Reservation. The trail to get to the waterfall is 1.9km, out and back.  It takes an average of 34 minutes to complete, and it is considered a moderately challenging route.
One hiker, Tristan Friebus, describes the trail as "Steep at first, then you follow along a fork in the river. The trail splits and goes to the first waterfall. If you venture up, it'll take you on top of the waterfall and into some very deep pools, you can jump. If you follow the river up you'll find more waterfalls as well. Be sure to get there early, you'll need 4×4 to cross the streams. You can park up the top of the trailhead.
At the top of the Volio waterfall, there are only 2 small parking areas.  So unless you are one of the first two cars to get there, you are going to have to park at the bottom and walk up.
Other Waterfalls in Costa Rica
If the above 3 exciting waterfall hikes are not enough, here are some others for you:
La Fortuna Waterfall, Arenal Volcano
Rio Celeste Waterfall, Bijajua de Upala Guanacaste – Swimming is not allowed anymore but the observation platform and stairs make for plenty of excellent photo spots.
Bajos del Toro Waterfall, in Bajos del Toro (use Google maps to get there)
Nauyaca Waterfalls, between Tinamaste and Dominical, South Pacific Coast – Two waterfalls in one location. There are 3 ways to get to the waterfalls: you can hike, take a horseback riding tour, or 4 x 4.
Llanos de Cortez Waterfall, near Bagaces, Guanacaste
Oropendola Waterfall, Liberia, Guanacaste
Bijagual Waterfall, near Tarcoles, Central Pacific
Diamante Waterfall near Tinamaste, is the tallest waterfall in Costa Rica
Uvita Waterfall, near Playa Uvita South Pacific – small waterfall but it's extra fun because it's a natural slide! You can climb up to the top and slide all the way down into the pool!
Montezuma Waterfall, near Playa Montezuma Nicoya Peninsula – Tom Brady made this waterfall famous when he posted a video of himself jumping off the top.
Los Chorros Waterfalls, Grecia
Catarata Llanos de Cortes, Bagaces Guanacaste – the shallow pool where you can actually stand under the waterfall.
Catarata La Cangreja, Bagaces Guanacaste – one of the least visited waterfalls in Costa Rica, but you can't swim in the pool below it.
Cascada El Pavon, between Ojochal and Tres Ríos South Pacific – is a very small waterfall where you can swim in the pool below it.
Blue Falls Bajos del Toro – two small, sky-blue-colored waterfalls deep in the rainforest.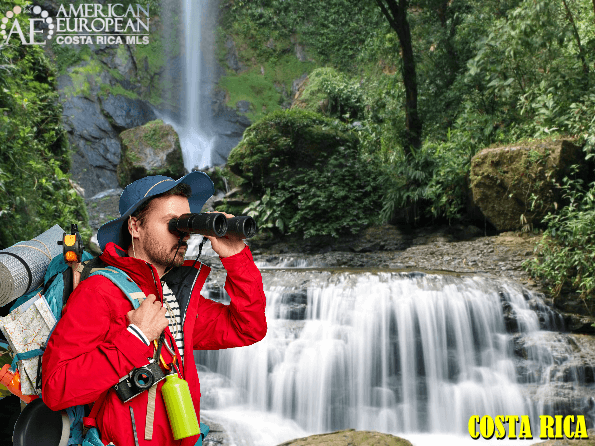 Other Hiking Trails
Besides walking along waterfalls, there are plenty of other trails in Costa Rica.  All Trails has 215 trails listed. Here are a few ideas:
Hiking – 193 trails
Mountain Biking – 32 trails
Running – 37 trails
Road-Biking – 3 trails
Backpacking – 6 trails
Walking – 132 trails
Off-road driving – 3 trails
Scenic driving – 4 trails
Bike touring – 2 trails
Camping – 7 trails
Bird Watching – 97 trails
Horseback riding – 4 trails
So, no matter what activity you like to do, you will find a trail that will meet your vacation dreams.
So, when you are planning your vacation to Costa Rica, be sure to check out one or more of these areas.  Your tourist dollars will help to preserve these areas for future Costa Rica and its tourists, both today and in future generations.
If you love the view of a waterfall, some of our affiliates have waterfall properties and properties with the view of a waterfall listed. Contact us now.
Have fun!