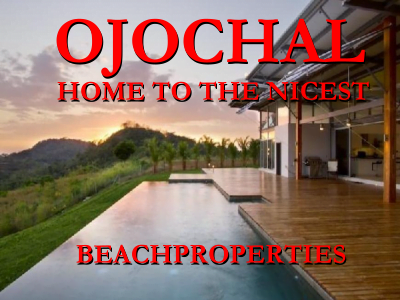 Ojochal is home to the nicest beach properties in Costa Rica. It is the reason the Southern Pacific currently offers some of the best Costa Rica real estate investment opportunities.
Boasting one of the most beautiful landscapes in the world, this area is characterized by rich green foothills, white sandy beaches, and clear Pacific waters. This is where the mountains meet the sea, where dolphins play among the waves and where humped backed whales and turtles come to visit throughout the year.
With improved access to the Southern Pacific, there are several towns in this region that have been highlighted as excellent areas for property investment. The small village of Ojochal is just thirty kilometers south of Dominical. It has enjoyed a relatively quiet existence up until now. As a result, Ojochal is home to the nicest beach properties in Costa Rica.
Because the vast majority of real estate available is not resale properties, this clearly demonstrates the area's growing popularity. Usually, there are very few Ojochal homes for sale but there are some incredible investment opportunities in Ojochal.
Beautiful landscapes and secluded beaches
The Ojochal area is home to some of the nicest beach properties in Costa Rica. The beaches of Playa Ventanas, Playa Piñuelas, Playa Tortuga, Playa Ballena and also Playa Arco have ensured that Ojochal sustainably prospers from the steady arrival of tourists to the area.  Some of the Ojochal luxury homes we have for sale are outstanding. All these beaches contribute to the fact that Ojochal has some of the nicest beach properties in Costa Rica.
Toucans, monkeys, parrots, iguanas, and sloths are just a few of the natural wonders you can see at the nearby Marina Ballena National Park.  Additionally, between the months of July to January sea turtles arrive to lay their eggs. Perhaps the Marina Ballena National Park is best known for its aptly named whale tail coastal formation. When it's low tide, visitors to this area can access the Isla Ballena via this whale tail sandbar. For there, you can spot Humpback whales migrating through these Pacific waters during the winter.
A small multicultural town with a big heart
Many members of this multicultural beach community originate from France, Germany, Italy, America and also from Canada. The mountainous landscape of Ojochal has meant that although there is a center it is relatively small in comparison to neighboring towns but this is certainly home to a strong and welcoming community of expats.
Residents of this beautiful beach community frequently organize group activities including turtle watching and a yearly fiesta which will help you feel part of the community. This makes Ojochal one of the most interesting location to purchase beach properties in Costa Rica.
Health care, education and daily life in Ojochal
The town has a doctor, dentist, supermarket, beauty salon, bakery, gas station, hardware store, taxi service, and internet cafe. Also, there are a few bars and a small disco. As a result, there are many more investment opportunities. Residents often travel out of town to nearby Uvita, Palmar Norte, and Sur or Cortés, if they are looking for a wider selection of products or need banking services. Furthermore, Palmar Sur offers domestic flights to other parts of Costa Rica.
The town has an EBAIS which offers basic medical care. For more specialized health care services a new hospital, Hospital de Osa opened at the beginning of 2010. This public hospital is just 15 minutes south along the Costanera Highway.
The majority of Ojochal residents would agree that the town does not suffer without such amenities. They are easily accessible nearby.  All properties in the area have a water and electricity supply as well as internet access and good cell phone coverage.
The Escuela Verde Costa Ballena is an international school located in Uvita.  Many children from expat families in the area attend this school which offers a bilingual comprehensive curriculum.
A prospering local tourism industry
The vast majority of local businesses in Ojochal cater for tourists. The mountainous landscape of Ojochal has meant that although there is a center it is relatively small in comparison to neighboring towns.
Hotels and various tourist activities have been set up on the surrounding foothills to take full benefit of the stunning scenery. The advantages of living in Ojochal are clear with you and your family benefiting from all sorts of outdoor activities available in the surrounding area.
Therefore, it is easy to enjoy a perpetual vacation and use any of the following amenities the areas offer:
ATV tours
Swimming
Bird-watching
Canopy tours
Hiking
Horseback riding
Mountain biking
Boat tours
Scuba diving and snorkeling
Kayaking
Sports fishing
Well known for its culinary delights
This area is principally known for offering a good selection of quality restaurants serving international cuisine. Therefore, many tourists flock to this area just to sample the town's culinary delights and quality imported wines. Exotica, El Jardín, Lily Pad restaurant and Gringo Mikes are just a few.  As this area seems to be overflowing with restaurants it is debatable whether there is a need for any more.
It is advisable to carry out some market research before you embark on a business venture. Try to identify what the area really needs and consider setting up a business that caters to the expat community as well as tourists so you are no hit during the low season.
Making Ojochal your home
Like many towns in the Southern Pacific, Ojochal is expanding but local residents are eager to keep this to a minimum.  Ojochal has a real sense of community and this is what makes it so special. Therefore the local population will welcome families moving to this area with open arms.
Ensure that you carry out relevant research regarding education facilities for your children. You should prepare for culture shock to set in after a few months of living here. Adjusting to a slower paced life can be difficult for some but many Ojochal residents would agree that once you get into the swing of things living in the south Pacific has endless benefits.
I invite you to visit us and check out the nicest beach properties in Costa Rica. We will show you everything that Ojochal and the Southern Pacific Beach area has to offer you. When you do, contact me before you drive out here. My team and I will make sure you will find the South Pacific real estate you are looking for.
Feel free to leave your comments on this blog. If you like this article, please feel free to share it on your social media.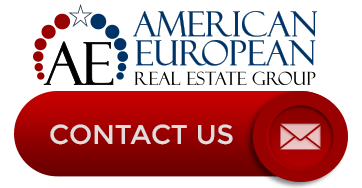 ---
If you like this blog, connect with me on Google+ or subscribe to our newsletter by clicking the banner below.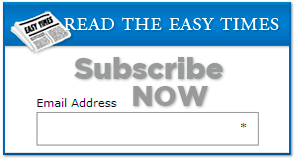 While we're at it, I DO want to remind our readers that we appreciate any referrals you can send us. Finally, please remember the American-European real estate Group's agents when you refer a real estate agent. Because we DO appreciate your business.