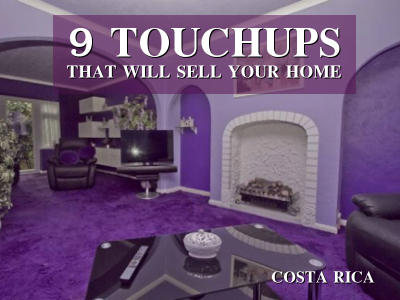 Should you bother to touch-up your home before putting it on the market? What can you do that will help sell your home in Costa Rica?
Let me dodge that question for now and ask you: Would you buy a home in Costa Rica that looks like a disaster?
Of course, you wouldn't. Just like you would prefer buying a car that looks spic 'n span, you would also instantly fall in love with a house that has a beautiful fence, a landscaped garden and is well painted. Am I right?
I recently listed a luxury townhouse in Escazu, without even taking an exclusive on it, where the owners did something very unusual: they listened to my recommendations. It took them only 3 weeks to touch up the paint of the interior of the house, fix some flooring problems, fix the backyard, get rid of the clutter of 4 children, organize the home office and make the home totally ready for showing.
Picture Perfect
And the best news is that the sellers spent just under $4,000 to do all the necessary to make the townhouse look picture perfect. I'm sure their efforts will pay off once you sell your home in Costa Rica in record time, as it is also priced $70K cheaper than a neighbor.
9 Touch ups
So how to figure out which 9 touch ups you will help sell your home in Costa Rica?
1.    First Impression
Go to your front gate and follow the route buyers and their agents would take. Are your gate and your front door painted and are the colors acceptable?  It's because the first impression matters a lot. Don't go overboard using weird colors or trying to make a statement that is not important anymore. Also, make it look inviting to everyone! A fresh coat of paint would be a great touch up for starters.
2.    The Fences
Walk around the property, check the fence, and see if there are any signs of rust or damage that might need some touch up or a fresh coat of paint.
3.    The Exterior
Now check the whole exterior of the house and pay special attention to window sills, especially where the sun and rain might have peeled the existing paint. Also, replace any rotten wood.
4.    The Interior
Do a slow walk through while taking notes of the interior of your house. Drawing a simple floor plan will help to put markers of the locations that need touch ups. Check doors, walls, and baseboards. There are also some very interesting apps for your phone that might help.
5.    The Bathrooms & Kitchen
Pay special attention to bathrooms and kitchen. If your kitchen cabinetry is damaged, do not try any touch ups; contact your kitchen cabinet supplier for options to fix. Fix any humidity damage inside the bathroom and kitchen cabinetry. Also, re-grout floor and wall tiles if necessary. If you have any damaged laminate or wood floors, call a professional crew for repairs.
6.    Keep it Neutral
Get rid of any hideous and obnoxious colors you might have anywhere inside and outside the house, keep the colors neutral and acceptable for every buyer.
7.    Match the Old Paint
The leftover paint from last time will not match, chip off some paint, and have it matched at the store of your preference.  For exterior and interior wall paint, try first painting a test patch and let the paint dry well before you start your touch ups. Also, less noisy colors will help a lot.
8.    No Preferences
Get rid of all the colors that show any preferences of race, sex, religion, sports, and others.
9.    The Roof
If your roof is visible from the exterior of your house, have a professional check on your roof. Don't try any dangerous stunts, play it safe.
Once you've accomplished all the touchups that sell your home in Costa Rica, and you have de-cluttered your home, call your real estate agent to come and take photos for a great marketing presentation.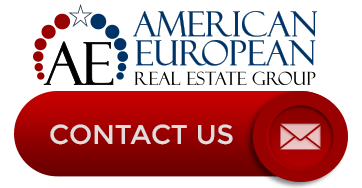 Selling your home in Costa Rica and need assistance? Contact us now.
---
Feel free to leave your comments on this blog.
If you like this blog, connect with me on Google+ or subscribe to our newsletter by clicking the banner below.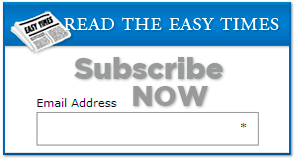 I DO want to remind our readers that we appreciate any referrals you can send us. Most of all, please remember the American European real estate Group's agents when you refer to a real estate agent. We appreciate your business