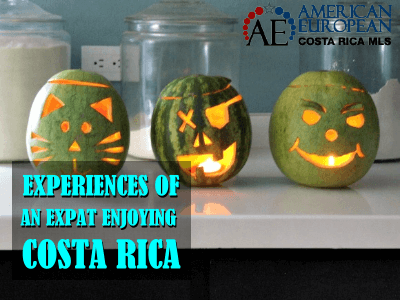 Antoinette, a North American expat who lives with her family in Alajuela, is good at making things happen. She is good at it because she tries, she tries hard.
These are some of the experiences of an expat in Costa Rica who enjoys herself tremendously.
Antoinette is happy in Alajuela, together with her husband and two kids. She finds ways to have her family experience the Tico – American lifestyle while living in Costa Rica.  Antoinette is very inventive like she shows in this blog about "Guanabanas". She and her family enjoy adjusting to their new life as an expat in Costa Rica. Therefore, I'd like to share her experiences with you.
Thanks again Antoinette, for allowing me to use your great stories about life as an expat in Costa Rica.
They were charging 7000 colones for pumpkins
Yah, my husband and I are cheap. DON"T JUDGE! We just could not justify paying damn near $15 bucks for a single pumpkin.
We wanted to be all cute and spend "quality family time" carving pumpkins for Halloween. You know, teach our kids some traditional ish and have fun getting messy. That price tag brought all that to a halt. I could justify the cost if the pumpkin if they were multi-functional but I'm not a fan of pumpkins. I wasn't going to be hooking up pumpkin pies or baking pumpkin seeds.
While the Mister and I are discussing this over the pile of pumpkins, I spied with my little eye a gigantic display of

watermelons. Then it dawned on me. Who says that pumpkins are the only thing that can be carved? And guess what watermelons were only 600 colones (a little over $1). So I grabbed a few and got all giddy. This was the beginning of a beautiful family tradition.
Watermelons
We scooped out the watermelons and placed the bowls filled with watermelon guts aside. We carved some little faces and stuck a tea light candle inside. Thus creating what I am sure are the very first "Halloween Watermelons".
After taking time to admire our amazing artwork, we were left with the watermelon guts. Oh, the things you can make with watermelon guts! We first separated out all of the seeds, rinsed them off, and placed them on paper towels to dry. I plan on seeing if I can get a little watermelon patch growing. The Vitamix blender was on deck to turn guts into glory… ok, not glory but juice. Juice is pretty glorious, right? This juice was put in sippy cups, frozen into cubes for smoothies, made into some divine sorbet, and it's good with rum too.
I think from this day forward, watermelons will become the fruit of choice for Halloween in the Kelley household unless something else is on sale!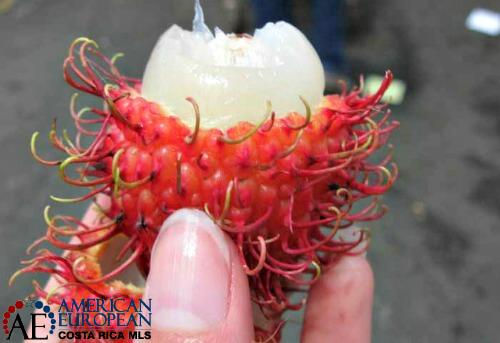 Mamon Chino = Chinese Sucker
These weird-looking little spiky balls of joy have somehow become an addiction of mine. When I see the little umbrella posted up about 50 meters past the "Papi's Pollo" in Barrio San Jose, I get all giddy! My "Mamon Chino Man" already knows that I need two of the "grandes bolsas"! I do try to exhibit some form of self-control and wait until he is at least back to his stand before I rip open a bag. I split the skin with a surgeons' precision. (They practically peel themselves into halves). My taste buds are overcome by a fruit-induced euphoria.
You eat the mamón chino by popping the peeled fruit into your mouth and sucking on the pulp, just don't get overly excited and swallow the large seed. That would be no "bueno". The taste is sweet and grape-like.
You can find these delightful delicacies at most little farmers' markets around Costa Rica. You can even find them at the Supers or Grocery Stores, but the fruit is a bit more expensive there. I enjoy the mamónes chinos fresh but you can find them in a jam, jelly, or even canned.
Try one and see if you end up like me just waiting around for July to come so I can get my yearly fix.
The Author
Antoinette Kelley, her husband Nathan and her eldest son moved to Costa Rica in November 2009 and had her 2nd child in Costa Rica. They live in Alajuela, on a very nice property they have bought through an American European real estate Group affiliate real estate agent.
They have adjusted extremely well to the lifestyle in Costa Rica. Antoinette tells us about her experiences now and then. If you would like to follow Antoinette's stories about being an expat in Costa Rica on her blog Pseudotico, feel free to visit her.
If you like the idea of living in Costa Rica just like Antoinette and her family, contact us now.
---
Feel free to leave your comments on this blog. If you like this article, please feel free to share it on your social media.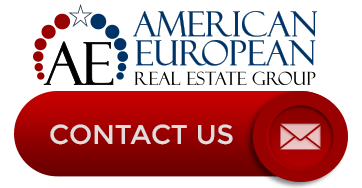 If you like this blog, connect with me on Google+ or subscribe to our newsletter by clicking the banner below.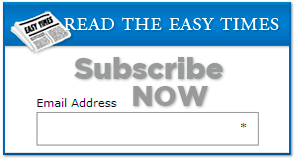 While we're at it, I DO want to remind our readers that we appreciate any referrals you can send us. Finally, please remember the American-European real estate Group's agents when you refer a real estate agent. Because we DO appreciate your business.