Estimated Reading Time: 7 Minutes
Did you know cosmetic dental care is available in Costa Rica at an affordable cost? When you need porcelain laminate veneers, invisible restorations, tooth implants, tooth whitening, or instant orthodontics to improve your smile, the solution is "COSDENT " Clinic: Dr. Roberto Sauma Fiatt of Cosmetic Dentist.
President Oscar Arias first put our country on the map as a Nobel Peace Prize winner. That started tourism back in the '80s. The Costa Rican Institute for Tourism (I.C.T) started the well-known campaign "No artificial ingredients."
At the end of the 90s medical tourism started to get its feet wet with plastic surgery and dental care. Therefore, this country is now a major dental care destination.
Today, I'd like to tell you a bit about Dr. Roberto Sauma, who has been my dentist since 1982 and is a pioneer in cosmetic dental care.
Cosmetic Dentist Dr. Roberto Sauma and his clinic CosDent Dental Cosmetics with Porcelain have received from the Global Organization for Excellence in Health the international certification of "Excellence in Health Care Prize 2006" in recognition of the path as an institutional leader in the odontology field.
Dr. Sauma graduated from Dental School at the University of Costa Rica in 1982. More than 7000 satisfied patients will ensure that Dr. Sauma can offer incredible cosmetic dentistry results for you. As a result, he is the dentist you are looking for.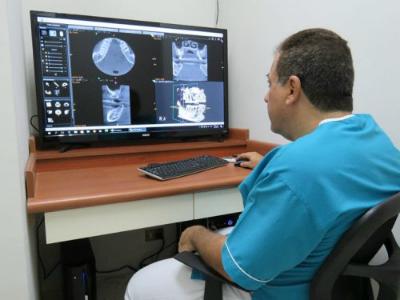 In 1985, Dr. Sauma started "Cosdent" (the Cosmetic Dental Clinic using Porcelain), a clinic committed to providing 100% aesthetic excellence.  Over all these years, "Cosdent" has become one of the most specialized clinics working with Porcelain.  This material, used in restoration treatments, has fabulous physical properties similar to natural dental tissue, making it excellent to work with.
Technically, CosDent can quickly modify the FORM, SHAPE, SIZE, COLOR, and POSITION of any tooth and achieve perfect smiles.
Dr. Sauma's Clinic has an advantage because he works the porcelain in his laboratory. He commits himself to each specific case which guarantees two main issues:
A) Strict quality of the final product.
B) Timing to achieve final results.

FAQ
What is cosmetic dentistry?
Aesthetic or cosmetic dentistry can be described as one or more dental treatments that improve the beauty of your smile. And a beautiful smile can be the beginning of a more successful, confident personality.
What is Porcelain Restoration? (Veneers and Crowns)
Veneers are thin slices of ceramic or porcelain. These are made to fit perfectly over the front teeth' visible surface. Therefore it's a dramatic makeover that will give you a healthy, stunning smile. Porcelain Restoration is a great way to treat discolored or ugly teeth, closing gaps between front teeth and giving a healthy, long-lasting natural result.
A Crown is an artificial restoration that fits over the remaining part of a prepared tooth, making it strong and giving it the shape and color of your natural tooth. This is a great way to deal with damaged, decayed, or broken teeth.
Cosdent corrects problems with one or another, and when needed, with the combination of these two techniques.
What are the benefits of the Porcelain Restoration?
It maintains almost the exact properties of a tooth, so it looks natural.
It is hard and durable as tooth tissues.
Its properties make it color-stable.
Because of this, everything looks real, and natural, and permits cosmetic dental care the potential to achieve breathtaking beauty.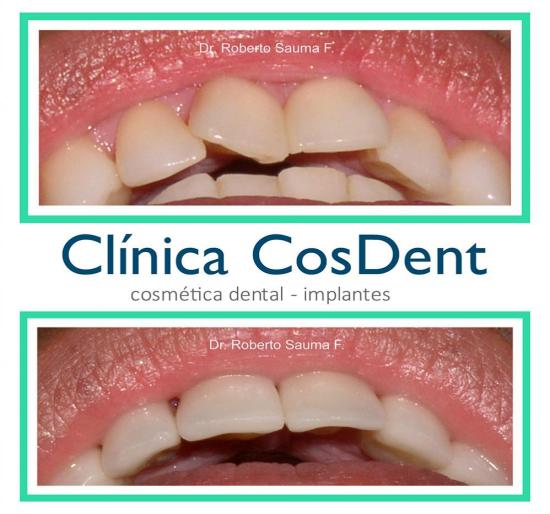 Give some porcelain aesthetic examples
Dark borders
Appearance fix
Discoloration
Shape fix
Instant Orthodontics
Fractures
Visible Restorations
Gaps
Extreme Cases
What is tooth whitening?
Healthy teeth that have yellowed with age or stained from coffee, red wine, or smoking usually respond well to whitening. Cosdent treats patients with a professional teeth whitening system, Beyond, or they also have a more economical home whitening kit; the effect is equally good. The top-up gel is supplied to maintain the result.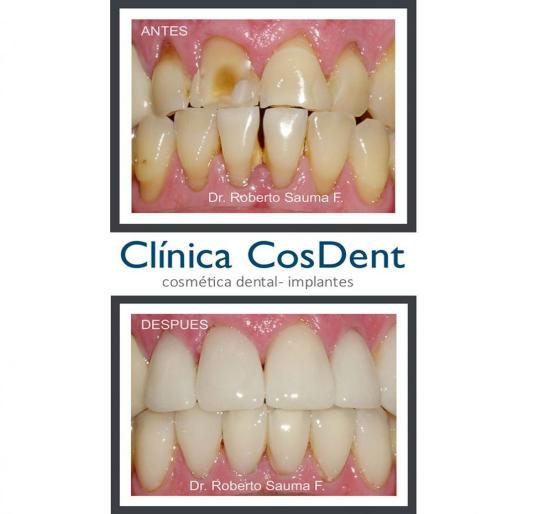 What are white fillings?  
There are several tooth-colored amalgam-free filling materials available. The most suitable options for your teeth are discussed and recommended during your first appointment.
What are dental implants?
Today's advanced technologies allow you to replace lost teeth with dental implants, a life-long solution that will help you regain your teeth's natural function. An implant is a small titanium post that replaces the root portion of a missing natural tooth. The implant is placed in the jawbone, allowed to bond with the bone, and serves as an anchor for the replacement tooth.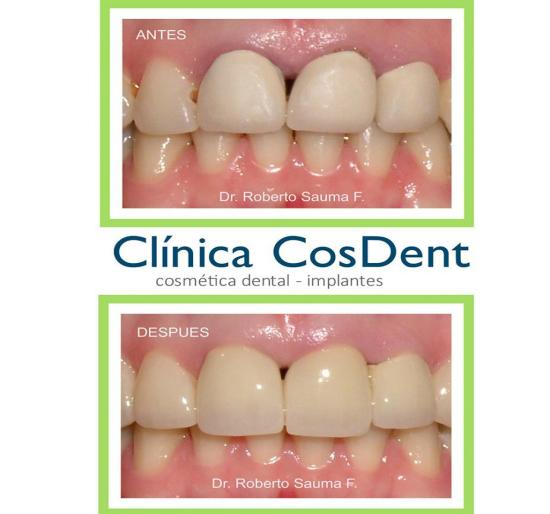 Can I do a tooth replacement?
Cosdent can replace missing teeth with dental implants or bridgework. Also, they can achieve great results by combining the latest advanced materials and gum management techniques to make replacement teeth appear to emerge from the gum as a natural tooth.
What are instant orthodontics?
The procedure is limited to front teeth position improvement.  It consists of the use of porcelain veneers or porcelain laminate veneers.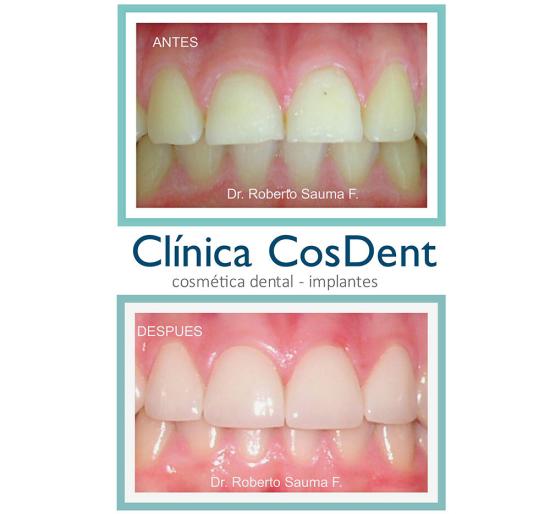 Can you do general dentistry?
General dentistry includes root canal treatments (endodontics), cleanings, periodontal treatments, and surgery.
Smile design: Process to improve your smile
What can you do on the first visit
During the first appointment, you will have the opportunity to meet the team.  They will also listen to your concerns, assess your problems, offer treatment, answer your questions and hopefully, start the design for your new smile.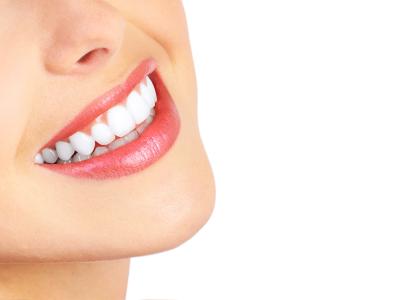 3D Models and Photography
Next, you tell them how you would like to proceed based on the treatment option and how you want your smile. So they'll help you choose your smile and show you how it would look using computer technology, Photography, and 3D Ceramic Models.
Cosdent offers their patients a preview of the result through digital modification of the initial diagnostic pictures (Imaging) and transformation of stone models with wax (Diagnostic wax-up).
Trial Smile
Then you can examine the smile design 3D Model. Cosdent can check the aesthetics and function. If it's in your interest, they can also sculpt the teeth so you can try the proposed smile in your mouth.

Results
Cosdent works to achieve the planned smile by duplicating the smile design in the restorations adding color, surface, anatomy, and texture to bring your new smile!
I, Ivo Henfling, recommend Dr. Roberto Sauma and Cosdent for your cosmetic dental care; he's definitely the best!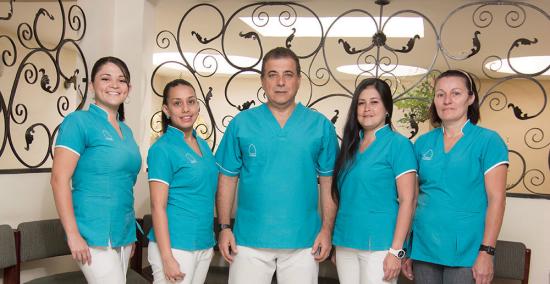 Photo used in featured image: Photo by Luis Machado on Unsplash