Estimated Reading Time: 4 Minutes
Are you a perpetual tourist in Costa Rica and stay legal by doing a 3-monthly border run? The ARCR has released useful information for those who do.
Question: I´m a perpetual tourist and my visa is to expire soon or has already expired. Should I try to renew it?
Our advice is not to attempt the renewal, the office of immigration is currently closed. If you exit the country, you will not be allowed to come back in for the next two weeks.
Important
1. Immigration has extended the tourist visa until May 17, 2020, to all tourists who acquired the entry stamp on or after December 17, 2020. There is no need to perform any procedures.
2. If you came in before December 17, 2020, you will be charged a penalty upon exit.
3. The penalty will be applied to people with:
a. An expired tourist visa,
b. All temporary residents with an expired DIMEX card,
c. Expired "Estancias". Estancias is a migratory condition that is not considered a residency but a tolerance of your stay for longer periods of time than what the normal tourist visa would grant.
4. If you are a legal resident, and you leave the country, you cannot re-enter until the Covid-19 emergency is over.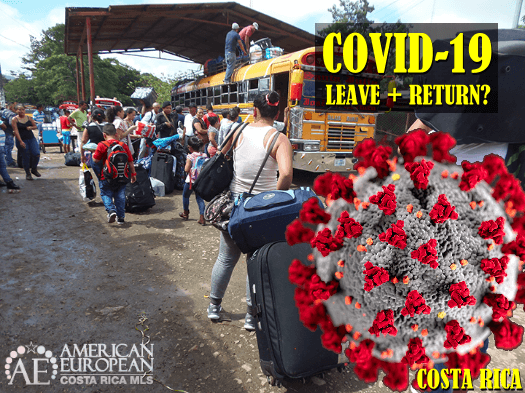 To whom it will not apply
Minors,
Refugees,
Asylum-seekers,
People with disabilities,
Transborder workers,
Permanent residents, even If their DIMEX is expired,
Those in the process of change of status,
Types of sanctions
Monetary:  $100USD per month of overstay, retroactive all the way back to March 1, 2010,
No entry penalty
Don't you want or don't you have a way to pay the penalty? Then your passport will be stamped with a "no entry" stamp for three times the amount of the time you overstayed.
Pre-payment
You can pre-pay the penalty and bring your receipt of payment to the airport or border upon your exit. You can pay the penalty at Banco de Costa Rica accounts:
SINPE ACCOUNT COLONES 15201001008005117
SINPE ACCOUNT DOLLARS 15201001008005465
However, the receipt must show the amount paid and have your name on it. You will have to show this to immigration upon your exit.
You can learn all about the fines and confirm those bank accounts at Immigration's website (in Spanish).
Recommendation
Therefore, if you are a perpetual tourist, don't wait until you get caught. Act accordingly and hopefully, this is the opportunity to correct your status into a legal one.
The Author
Lic. Romulo Pacheco has 21 years experience in law practice with a special emphasis in immigration in the law office Pacheco, Marin & Associates.  Mr. Pacheco is also the general manager of the ARCR. ARCR is the Residency and Immigration expert for relocation and retirement in Costa Rica, with 35 years of experience and thousands of members.