Estimated Reading Time: 4 Minutes
Let's explain a bit about cremation in Costa Rica. I know it's not a fun topic to discuss, but before we know, it's our turn to find last-minute solutions. When a family member, or a friend, passes away, and you consider cremation in Costa Rica, taking the remains with you is one of your options.
When you read this article, please do not call us to take care of the remains of your beloved ones. We are a real estate network, not a funeral home. However, we can assist if the deceased owns a property that needs to be sold or rented here. We have the solutions for you.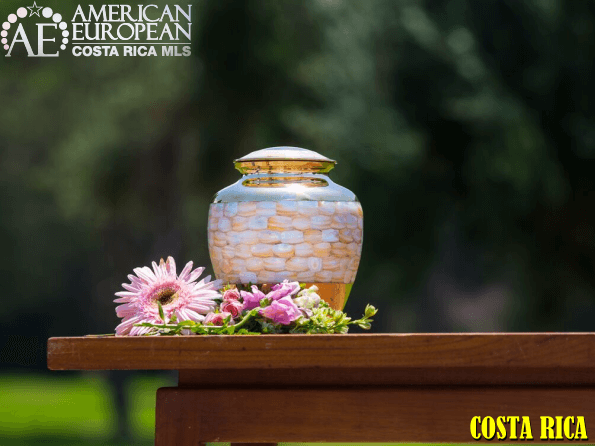 Dying in Costa Rica
No matter if you are a resident, a tourist, or a perpetual tourist, when you pass away when living here or on vacation, your immediate family has three options:
1.    A cremation in Costa Rica
2.    A funeral in Costa Rica
3.    Repatriation of the remains to another country
You need to contact a funeral home here for any of the above.
Some funeral homes have an experienced English-spoken staff that works with the airlines and foreign consulates and prepare all documentation. They assist in making the process of repatriation of the ashes as smooth as possible. So be meticulous when you research the different funeral home options.
Cost of Cremation
Families now seek affordable alternatives to traditional funeral and burial services; many are choosing cremation even though it is more expensive than it is in other countries.
I don't like to quote prices in my blogs because prices change constantly, and there are already too many articles on the World Wide Web with outdated information. Still, I just bought a cemetery plot in the new Escazu Memorial Park in February 2012. Their sales manager there gave me the approximate cost of the following in March 2013:
1.    A cemetery plot of 2.16 m2 and a capacity for two crypts (each crypt can be reused every five years). Financing plans are available. The price in 2023 is 2,500,000 colones at the BCCR purchase exchange rate. The lots have their own real folio with its cadastral plan (modification of 2019). In addition, they have their own financing plans from 12 to 84 months.
2.    The cost of a niche at a cremation center is usually 30% more than that of a cemetery plot. The cost of an urn in 2023 ranges from ¢385,000+VAT to 590,000+VAT. They also have Eternal Love Trees for a biodegradable urn (¢1,250,000+VAT), double (¢2,000,000+VAT), and quadruple (¢3,500,000+VAT).
3.    The cost of a cremation with autopsy in 2023 (legal requirement) is ¢750,000 + 13% VAT at the BCCR exchange rate.
Cremation Services in Costa Rica
Most funeral homes can offer the following cremation services in one package, but you better check before signing any contract.
Consulting In English during the entire process
Autopsy (MOH requirement for all cremations)
Transport from the home, hospital, or funeral home to the morgue and from the morgue to the crematorium
A special cremation casket
Procedures before the Civil Registration (if not previously performed as part of the funeral service)
 Advice and paperwork for  Social Security (CCSS) if the deceased has legal residency
The actual cremation process
Delivery of the ashes in a metal urn labeled with the name of the deceased and date of birth and death
Packing of the urn
Who to contact for cremation
It is much simpler to go straight to the funeral homes that operate a crematory on their premises and offer all the other services. While some funeral homes advertise "cremation services," most subcontract this sensitive process to other crematories.
Costa Rica has the following funeral homes (Funerarias) offering burial and cremation services:
MonteSanto Cremation Servicies, click banner below:

Pet Cremation
Did you know pet cremation services are available in Costa Rica now? Click the banner below for more information.

Other blogs
Similar blogs that can be useful to you are:
I hope this blog will give you enough helpful information about cremation in Costa Rica.