Estimated reading time: 4 Minutes
Cooking with Croz is an adventure you can't miss. Because so many Easy Times readers look forward to what's new this week on the Easy Times, I have created a section for chefs in Costa Rica. Our members sell lots of luxury vacation homes and luxury vacation rentals. Those clients tend to be interested in the services Croz and others offer: gourmet dinners.
"I think food, culture, people, and landscape are all absolutely inseparable." ~ Anthony Bourdain
"However amazing a dish looks, it is always the taste that lingers in your memory. Family and friends will appreciate a meal that tastes superb, even if you've brought the pan to the table." ~ Gordon Ramsay
Two of my [many] inspirational Chefs who are the most passionate foodies – myself included – will know, admire, love, one especially love-to-hate, aspire-to, and may well have experienced…. unfortunately, I can not be included among the latter.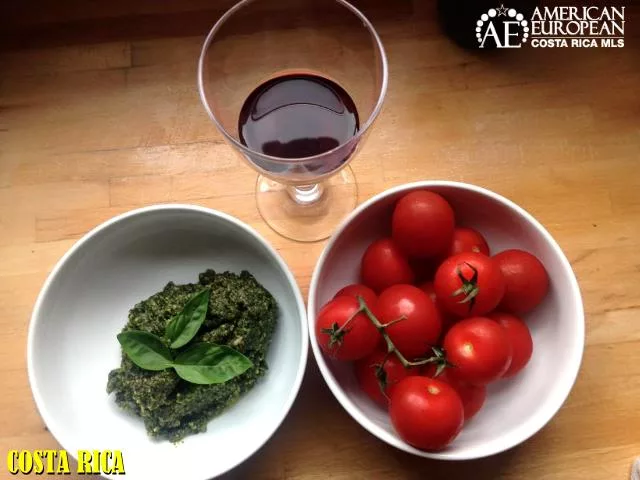 From Gastro Pub/Wine Bar to fine dining, street food & beach barbecues, metropolis ethnic quarters & ghettos, late-night curries & kebabs, and hung-over greasy-spoons or full-on Irish/English breakfasts ~ it's food morning, noon & night that assails our senses; and, it is said that our sense of smell triggers the most distant of near-forgotten memories…places, people & experiences.
Gordon Ramsay is spot on! A dish brought to the table…a table already laden with garlic bread & Ciabatta, Salad, Olives, sun-dried Tomatoes, anchovies, artichoke hearts, prosciutto & parmigiana… a wine… conversations animated, articulate and passionate.
Oven-roasted Mediterranean Vegetables
So, I would like to share in this cooking with Croz one of my favorite & most popular pasta sauces ~ if you can call it a sauce… more like a melange of intense, succulent, melt-in-the-mouth, oven-roasted Mediterranean vegetable wickedness! – with or without guanciale chorizo… or anchovies for a vegan serving.
Oven-roasted Mediterranean Vegetables with al-dente tagliatelle or linguine… actually, Conchiglioni (pasta shells) are fantastic… one shell… loaded with sauce is a wickedly sublime taste bomb… an epicurean big-O!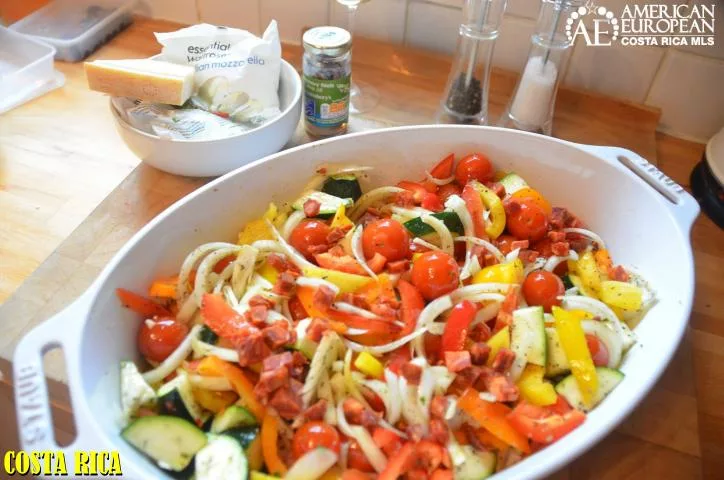 Ingredients
2 large, sweet, red-bell peppers roughly cut to 1 sq" dimension, angular & uneven
3 large, ripe plum tomatoes, de-seeded and cut the same as the peppers
6 small, dark-green zucchini – cut as above
about 20 small, ripe & sweet cherry tomatoes
1 large, ripe aubergine/eggplant, cut down the middle lengthways and then cut as above
a pinch… or a large pinch or a teaspoon of red chili flakes ~ according to your taste/resistance!
10 large cloves of garlic _ elephant garlic if you can source it – bashed flat with a wooden spatula or flat-side of a large knife
Half a dozen anchovies – many people say they hate anchovies, but when cooked, they are a non-salt substitute and help
Create the umami in many Thai/Asian and other regional dishes
Smoked-Chorizo or Guanciale cut to roughly 1/4" cubes
The zest of one lemon
A bunch of Thyme ~ 6-7 strands usually does it… bruise them first in warm hands
A pinch of sea salt flakes & fresh-ground black pepper to taste
Several tablespoons of high-quality EVOO! Extra virgin olive oil… the best you can muster!
Cut to 1" cubes buffalo mozzarella and put to one side for later
Roughly tear a generous handful of basil to add to the dish just before serving
Place all the above in a large bowl – wood if you have one – and mix gently & with TLC by hand – put your heart, soul & prana prayers into this ~ with gratitude for the abundance
Transfer to a ceramic oven dish and place in the middle of a preheated @180C for 45-50 minutes, checking every 15m or so and moving the veggies around until evenly caramelized. When the peppers and zucchini are soft, add the 1" cubes of Mozzarella – however many to your taste.
You can serve the sauce & pasta separately and crown either with the sauce….personally, I like to combine the pasta with the sauce, tear the basil over the top of the melting Mozza, and have a good chunk of Parmigiana on the table.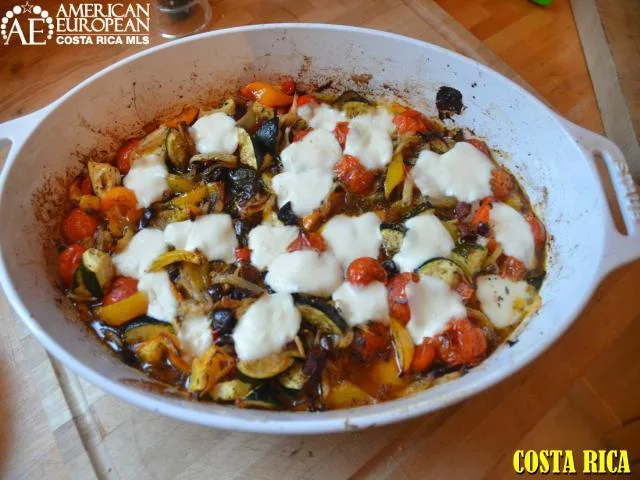 The Wine
Wine…?… this dish is a heady complex mix of aromatic subtle intensity… what a daft question… as if!…
…Chianti Classico….…Montepulciano d'Abruzzo or Nero d'Avola… also bear in mind – especially with the Chorizo mix, any of many Rioja's or a Ribeuero Duero.
This dish will also take the weight, intensity, and complexity of heavier wines such as Ripassa or Brunello di Montalcino… even a Barolo.
Here are some ideas for shopping affordably if you don't know where to buy the necessary ingredients.
Saludos y Buen Provecho!
The Author

Croz and his wife Mila are into a lot of exciting things. We invite you to join cooking with Croz, who is a first-class chef and loves to be hired for your gourmet dinner parties. Earth Energy Reconnection ~ Permaculture Food Cultivation ~ Forest-above-River Location ~ Skin Body Care Products ~ Nutritional Boost & Cleanse ~ Tico & Caribé/Asian-Fusion Kitchen – Adventure & Nature Immersion Journeys ~ Fire Pit & Stargazing Gatherings & Quiet Conversations or Silence ~ Pachamama Smudging Ceremonies ~ PhotoArt
Contact Croz now at crozb@protonmail.com
Feature Image by Freepik