One of the primary attractions of Costa Rica is its stunning nature and wildlife, attracting both tourists as well as people search for real estate. Do you need to go to a national park to see a sloth?
Their search for wildlife invariably leads them away from the cities, to the national parks, the jungles and other playgrounds of nature.  And there are indeed many wondrous sights to behold in the outer reaches of Costa Rica.
I certainly remember, when I first moved here 20 years ago. Going to Manuel Antonio National Park and seeing my first sloth…even though it was high up in a tree, with me having to trust those around me that the brown blob in the top of the tree was indeed a sloth.
Costa Rica is pretty well known for its sloths and even the Tico Times had a huge campaign with Sloth Kong at International airport Juan Santamaría few years ago.
In Curridabat
Little did I know (until last year) that I could actually have my daily nature walk from my home in Curridabat (an eastern suburb of San Jose) to see a sloth up close and personal, roaming free…in the city!!  For the past several years, I've been taking weekend walks from my home in Curridabat to the campus of the University of Costa Rica in San Pedro. I always take a lap or two around the lovely campus.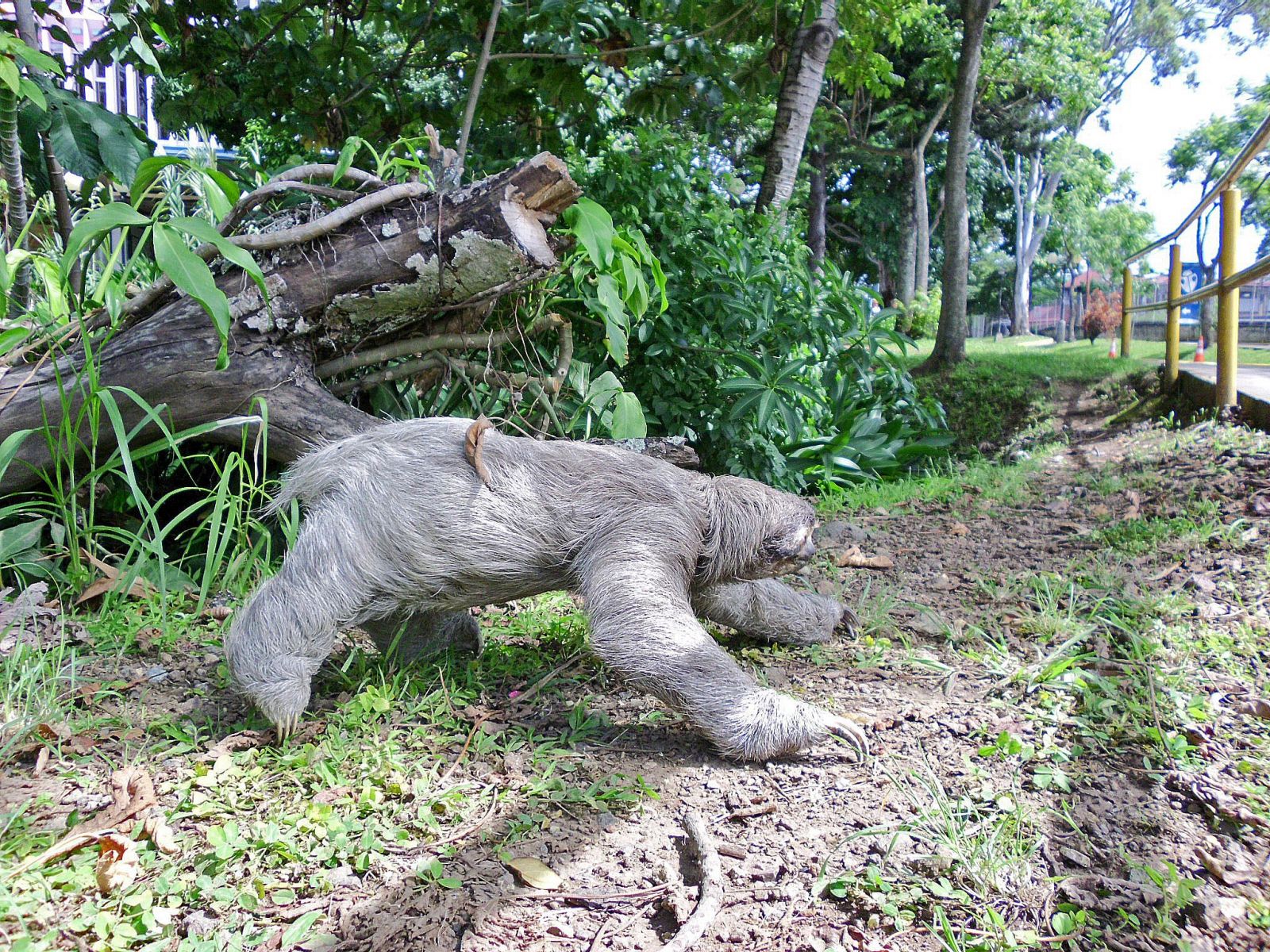 A sloth on the UCR campus (photo by Patrick Mulheren)
It wasn't until last December that, as I was walking around the campus. I was shocked to my core to look up in a tree and see…a SLOTH!  And, upon further inspection, I then saw three or four more in the same general area.  A sloth in the city!  Who knew!?
The university campus
In the center of the San Jose University campus is a mini-forest – nature reserve which attracts an impressive array of birds and animals.  I learned by observation that the sloths tend to disappear from the well-traveled areas of the campus during the dry season. That is from early February until early June.  I assume that's because their favorite trees (the guarumo, a.k.a. cecropia) get a bit dry in the more exposed areas during that time. So they retreat deeper into the dense forest reserve during the dry season.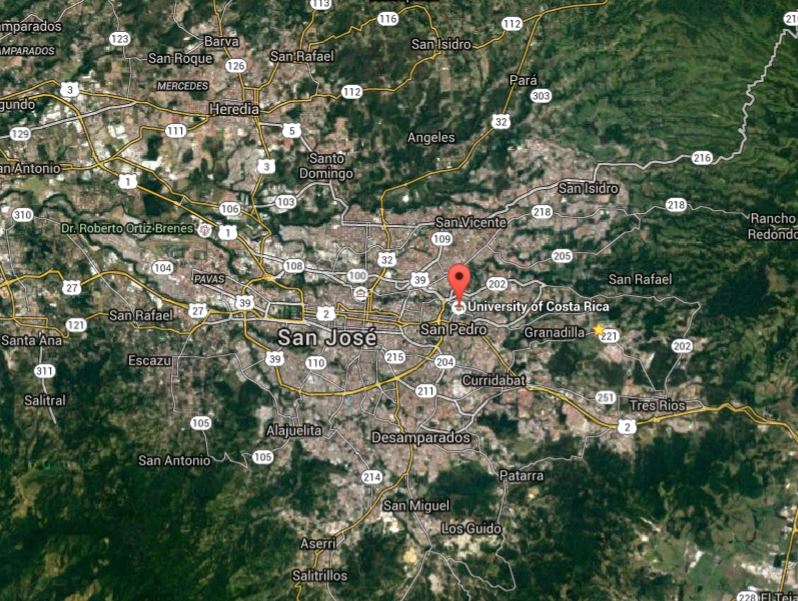 See how the University campus is located in an urban area
So I was overjoyed when I saw them in the outer areas again a couple weeks ago.  This little fellow appeared to be excited to see me, too.  As I got up close (within inches!) with my camera, he reached out and actually tried to grab onto me (I assume out of friendship, but I guess I should read up on whether Gringo flesh is included in their diet! ):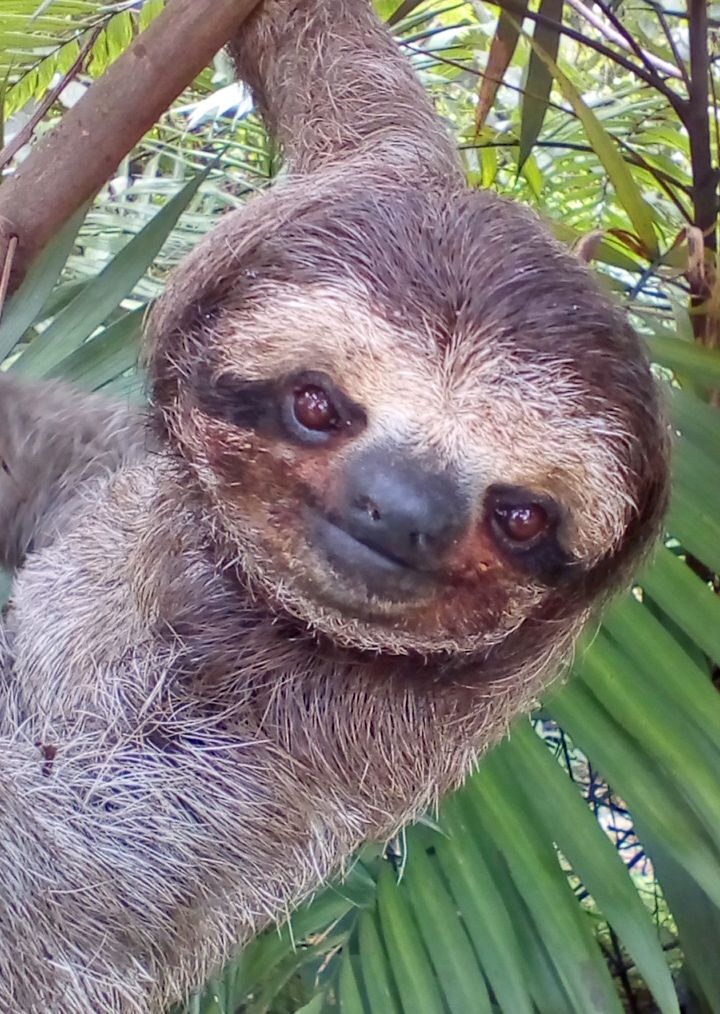 My buddy up close (photo by Patrick Mulheren)
Sloth Videos
Here are some videos of one of my new buddies:
•    Up Close and Personal with a Sloth at University of Costa Rica see video
•    "Ground" Sloth at University of Costa Rica see video
•    "Ground" Sloth at University of Costa Rica – Part 2 see video
•    Why Did the Sloth Cross the Road? see video
•    Sloth Crawling From Under a Log at UCR, see video
If you're not into "Lazy Bears", the campus is also an excellent place to see some very cool flowers. Lazy Bears is the literal translation of their Spanish name "Oso Perezoso".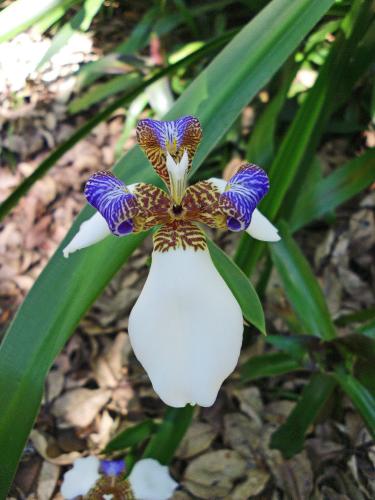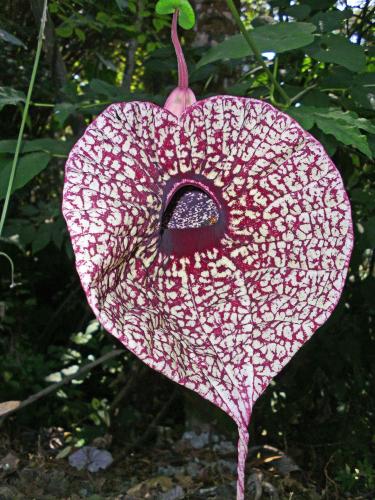 Flowers on the UCR campus (photos by Patrick Mulheren)
…and birds: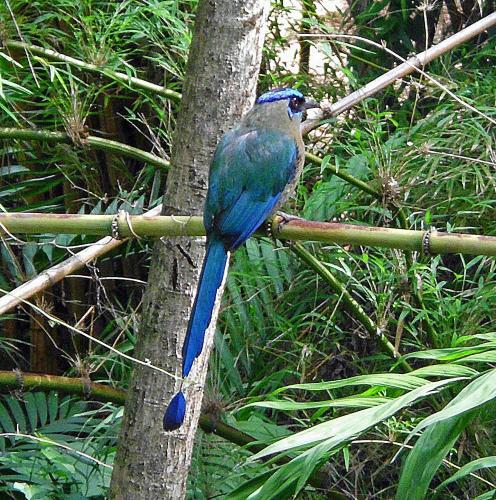 A motmot on the UCR campus (photo by patrick Mulheren)
I certainly encourage you to visit as many of Costa Rica's national parks, jungles and cloud forests as possible.  But, as you can see, you really don't have to go very far to see some pretty amazing sights, even within the city itself.
Purchase real estate
If you're considering purchasing real estate, the University of Costa Rica on the east side of San Jose is within walking distance of many nice residential areas. For example San Pedro and Curridabat.  as well as other popular residential areas even closer into San Jose. Just to name a few: Los Yoses, Barrio Dent, Barrio Escalante. We offer plenty of homes, condos and apartment on our inventory to choose from.
Contact me now.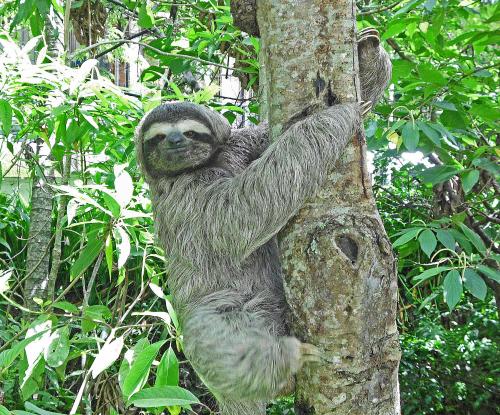 Another sloth on the UCR campus (photo by Patrick Mulheren)
You won't have to wait until weekend trips to the country to get in touch with nature.  There's a real gem right in the city!  When someone you know is in the market to purchase real estate on the cool side of San Jose give me a call. I'd love to assist you in your purchase.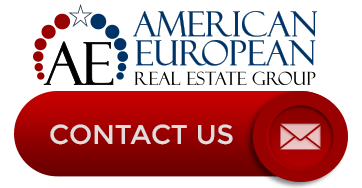 ---
Patrick Mulheren, the writer of this article, is our East-side San Jose real estate specialist. He covers Curridabat, San Pedro, Lomas de Ayarco, Tres Rios and Pinares. For East side San Jose real estate, contact Patrick now. 
---
Feel free to leave your comments on this blog.
If you like this blog, connect with me on Google+ or subscribe to our newsletter by clicking the banner below.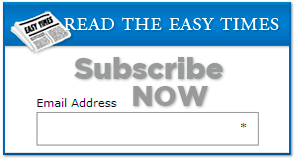 I DO want to remind our readers that we appreciate any referrals you can send us. I know you all meet people in the supermarket, at yoga, at the gym, at the beach or in a restaurant. Please remember the American European real estate Group's agents when you talk about your home in Costa Rica. Tell them about us when you meet someone who wants to purchase one, we appreciate your business