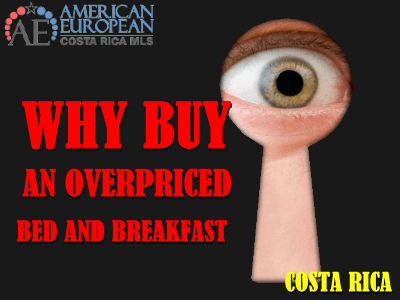 Even though our affiliates on the Costa Rica MLS mostly specialize in residential property, bed and breakfast owners contact us often. They do so looking to sell their business. Unfortunately, most owners of a bed and breakfast for sale in Costa Rica dream of getting a ridiculous price for their property.
From your hammock
Many people dream of retirement in the tropics and making money from their hammock! I wrote this article to wake up those who think you can run a B & B from a hammock, and make a profit.
Yes, you can definitely make money running a bed and breakfast and recover your investment by selling at the right price. The secret is buying at the right price and knowing what you're doing. Check out our inventory on bed and breakfast for sale on the MLS.
A joy?
Having a bed and breakfast is a great work-from-home opportunity if you're willing to work hard, real hard. Does 24/7 sound right? You will probably need to pick your guests up at the airport and drop them off again at God awful hours. You need to be a people's person and willing to entertain your guests with travel stories. They will also ask you where they should visit, how to get there and if they can pay with dollars everywhere.
I know bed and breakfast owners in Costa Rica who have had their business for years and they still love it. These people are a joy to be with and I love their breakfast. They know their business and they run it well.
Their business makes a profit, and they will not sell.
Who sells?
There are different types of sellers of bed and breakfast for sale in Costa Rica.
There are those who had this retirement dream to start a B & B in Costa Rica, one that you could manage from your hammock. Then they found out how hard you have to work.
Another seller is the one who found out that marketing a B & B isn't really so easy. There is a lot of competition and it is hard work to keep your guests ready. The location turned out to be terrible. This is the B & B that should be sold as a private residence because the B & B business has no value at all.
A third seller is that one who turned the B & B into a good business and got tired of doing the same thing every day, 365 days of the year. This is the seller who is ready to move on. So this is the bed and breakfast for sale in Costa Rica you should seriously look at purchasing.
In a private residence
Most B & B's don't have all their rooms of the exact same size. Most B & B's are started in a single family home although nowadays zoning doesn't allow for starting a B & B just anywhere. Many B & B that was a former residence has a master bedroom en-suite and probably 2 or 3 bedrooms that share a bathroom. Or maybe all bedrooms have an en-suite bathroom but the rooms have different sizes. Many B & B's have added on rooms or small apartments. Very few B & B's in Costa Rica are built from scratch and designed as such. It is no different with Wuthering Heights, a bed and breakfast for sale in Costa Rica.
Making money sounds great
It speaks for itself that when you purchase a bed and breakfast for sale in Costa Rica, you want a profit. So let's do some numbers first and see how this works.
Wuthering Heights
Once upon a time, there was this beautiful bed and breakfast for sale in Costa Rica. It's in a great mountain location, close to the city and not that far from the International Airport Juan Santamaría. I'm calling this bed and breakfast for sale in Costa Rica "Wuthering Heights" for the sake of the story.
Wuthering Heights was offered for sale at $1.5M. This B & B has 12 rooms: Standard Rooms, Superior Rooms, Deluxe Rooms and Studio Apartments.
For the sake of our calculations, I will use the average of $95/night per room. So let's suppose, every room is rented, 12 x 365 = 4,380 room nights.
If every room is booked every night, that will be 4,380 x an average of $95 x 4,380 nights = a maximum annual gross income of $416,100.
The average B & B in Costa Rica operates at about 50% occupancy, taking the green season into account. So $416,100 x 50% = a $208,050.
From the gross income, subtract the operating expenses and tax to get a net income and calculate the Return On Investment (R.O.I.).
Operating cost
Calculating the operating cost is where most B & B sellers make a huge mistake. In the case of Wuthering Heights, I do have access to what the operating costs were a few years ago. The reason is that the actual owners of Wuthering Heights bought it at a fire sale price from the former owner and I still have the operating costs from the former owner on my computer.
They showed an annual gross income of $214K, so my calculations above were not far off.
General operating costs are for marketing, advertising, commission to travel agents and websites, employees, power, utilities, gardening, pool maintenance, repairs, tax and others. In the case of Wuthering Heights, operating costs were shown at $115,000. This did not include the salary of the manager(s) who lived on the property.
Most owner operated bed and breakfasts do NOT allocate a salary for the owners, although they work twice as hard as their employees. I do know that managing a 12-room B & B in Costa Rica takes the time and effort of 2 spouses, not taking into account they also need a day off and a vacation here and there. You think that allocating $1,500/month each is overpaid? That is a total of $36,000, which would also have to pay Caja Seguro Social (social security). This adds another 24.17% = $8,700 annually.
So adding operating cost plus manager's salaries to the owners, you will have to subtract $44,700 + $115,000 general operating cost from the gross income of $208,050 = $48,350 annual net income.
I am now assuming that you are buying the B & B with your own money and you do not need any bank financing.
The property
Of course the property itself has its value, but this property is going to be sold as a business, not as a single family home. So the asking price has to make sense business-wise. Why invest $1.5M into a bed and breakfast for sale in Costa Rica if you're not making an interesting return or your investment. If you're not interested in working, you can just purchase the property as a private home and invite all your friends and family for free.
Financing
Getting a mortgage on a Bed & Breakfast purchase in Costa Rica? You will need to be a resident or citizen to get bank financing for this. The going bank mortgage rates start at 9% and private lending interest rates go up to 18% annually.
ROI
Let's suppose you will negotiate the owner down to $1,400,000 for the property and the B & B business. The B & B has a net income of $48,350, so your R.O.I. is 4%.
If you had $1.5M in the bank, would you purchase a business that will pay you and your wife $1,500/month to work 24/7 and a 4% annual return? Are you going to buy yourself a job or a business?
I would expect at least 12 – 20% ROI on my investment, excluding salaries for my wife and me.
Sell as private residence
The owners of Wuthering Heights would be far better off to sell their property as a private residence. The sale would probably net $500,000, which is what they paid for it at a fire sale price.
To advertise this property as a bed and breakfast for sale in Costa Rica would only makes sense if the sellers are looking for a buyer stupid enough to purchase the property and pay for a business that has hardly any value at all.
Buying a bed and breakfast for sale in Costa Rica?
You will find many B & B's listed by agents on every Costa Rica real estate website. There are many more B & B's more for sale that agents won't even list, for obvious reasons. Please take the time and make the effort to do your due diligence before you purchase. Have a good look at the books of the business, and find a good home inspector to inspect the property. Don't listen to your heart, you are buying a business. If you fell in love with the property, buy it as a private residence.
If you need professional assistance in buying a B & B, check our inventory and contact us.
P.S. We also have great private residences for sale in Costa Rica, from coast to coast.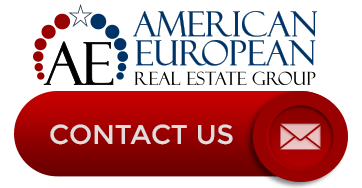 Feel free to leave your comments on this blog.
---
If you like this blog, connect with me on Google+ or subscribe to our newsletter by clicking the banner below.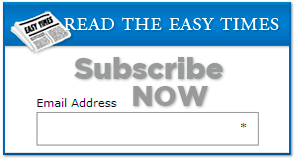 I DO want to remind our readers that we appreciate any referrals you can send us. Please also remember the American European real estate Group's agents when your refer a real estate agent. We appreciate your business.